Classic Blackjack
Classic Blackjack Review
Number of decks: 8
Blackjack payout: 3:2
Dealer's forced move: Stands on all 17
Dealer's first card: One up
Split: Yes
Re-Split: No
Split Aces: Yes – can draw
Double Down: Any
Surrender: No
Insurance: Yes
The dealer will always stand on soft 17 in Cryptologic's Classic Blackjack game. If you want to split a pair into two hands you are certainly welcome to, but you may not re-split. Split aces take only one more card, and if they are dealt a 10 point card, the hand counts as 21.
You can double down, even after a split, for a wager equal to your original bet. Insurance may be purchased for an amount equal to your ante bet as long as the dealer shows an ace. There is no option to surrender.
Your initial wager for a hand in Cryptologic Classic Blackjack must be at least 1 but no more than 500 USD/GBP/Euro. Bets are made with chips, which come in five denominations: 1, 5, 25, 100, and 500. When you win, the payouts are standard for the game. Blackjack pays ay 3:2. Insurance pays at 2:1. Standard wins all pay even money at 1:1. If you tie with the dealer, all bets push.
Cryptologic made a trade-off with their Blackjack games. The upshot of this is that blackjack looks absolutely stunning, but is a tougher to play than other, similar games.
In Cryptologic Blackjack, you actually see the dealer's hands as he passes out the cards, and everything is to scale, and looks fantastic. The downside is that the edges of things are rather soft, and the cards and chips look small on the screen, and can be hard to see. In the end, it is up to individual preference. Definitely try it out, as it's worth playing for the visual experience alone, and if you don't mind the slight bumps in the gameplay, then keep with it!
Be careful when it comes to making an insurance bet. The house always has the edge on these, unless you have been carefully counting cards and know that the dealer has a very good chance of getting blackjack (which, incidentally, is impossible to do online since the decks get shuffled after every hand).
Blackjack by Cryptologic is an all-around great addition to the genre. While its gameplay is a bit bumpy at times, it more than makes up for it with the photo realistic graphics and fluid animations. This is a standard blackjack game in terms of rules, so it's great for practicing for Vegas, or for winning real money online. Treat yourself and download it today, you deserve it!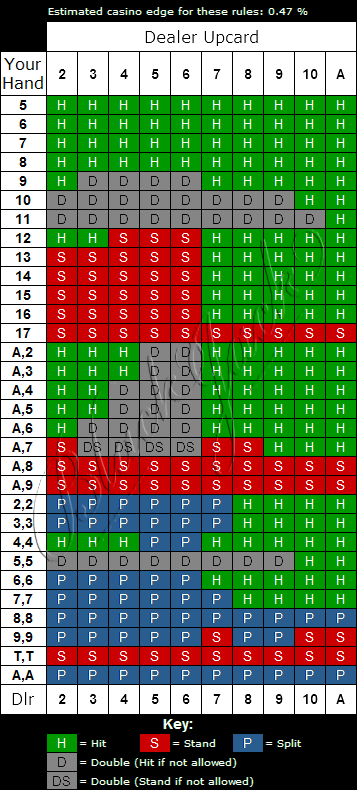 Blackjack Strategy

Strategy Chart

Casino Strategy

Online Strategy

Casino vs Online

Advanced Strategy

Beginner Mistakes

Bad Betting Systems