Vegas Strip Blackjack
Vegas Strip Blackjack Review
Number of decks: 4
Blackjack payout: 3:2
Dealer's forced move: Stands on all 17
Dealer's first card: One up
Split: Yes
Re-Split: 2
Split Aces: Yes – no draw
Double Down: Any
Surrender: No
Insurance: Yes
Practice for Free (opens in new window)
When playing Vegas Strip Blackjack, you always know that the dealer will stand on all 17s. You can split, and re-split twice, giving you up to 4 hands to win with. Aces can be split but not re-split, and split aces get one more card before you must stand. If that last card has a value of 10, the hand counts as 21, not as blackjack.
If you want to double down, the cost is equal to your initial bet. You cannot double down after a split or if you have been dealt a blackjack. Finally, insurance is available, but surrender is not.
Your wagers in Vegas Strip Blackjack can be anywhere between 1 and 200 USD/GBP/Euro. This flexibility is great, especially considering the fact that you can place a wager using any number of the game's 10 denominations of chips! Payout for blackjack is 3:2, for a standard sin is 1:1, and for insurance is 2:1.
One of the best features of Vegas Strip Blackjack is its ease of use. he interface is very simple and intuitive, and there is no learning curve for the game so the moment you open it up, you can start playing. Everything you need is right at your fingertips (then disappears to show the table again in Vegas Strip Blackjack Gold version).
Better than that, the graphics are brilliant! The top-down perspective (angled view in Gold version) gives you a great view of the action, and everything, from the chips to the plus green table, looks very realistic. This game makes for an outstanding Blackjack experience.
Because Vegas Strip Blackjack is a hole card game, a slightly different strategy will apply than if you were playing two-up blackjack. Since one of the dealer's cards is hidden from view until your hands are compared, there is an element of surprise involved. Generally, it is best to assume that the hole card is worth 10. This will keep your bets a bit more conservative, and will better prepare you if the dealer has a good hand.
Vegas Strip Blackjack delivers the goods in every category. It sports clean, realistic graphics and combines those with smooth gameplay for a seamless gaming experience. This four deck game is ideal for beginners and experts alike. Microgaming does blackjack right, and this is the proof!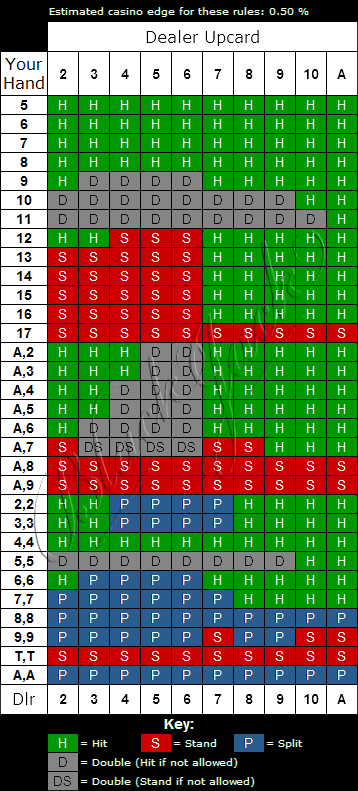 Blackjack Strategy

Strategy Chart

Casino Strategy

Online Strategy

Casino vs Online

Advanced Strategy

Beginner Mistakes

Bad Betting Systems