Online and Mobile Casino Games Developer Amaya Invests in Cryptologic
Apr 20, 2011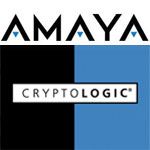 Shares acquisition
With today's rapid growth of mobile gaming sector there is an increased number of acquisitions within the industry.
Cryptologic and Amaya Gaming will soon have more in common than their Canadian roots. True, Cryptologic is now based in Ireland, in proximity to online gambling hubs located in the United Kingdom, yet originally it was started in Canada.
Montreal based Amaya Gaming, a developer of online and mobile casino software, announced its intent to acquire a 5.05 percent stake in Cryptologic valued at over $1 million.
David Baazov, President and CEO of Amaya, commented on the acquisition: "Amaya is also considering one or more other alternatives to a strategic transaction with the Issuer. Our company will continue to monitor the business and affairs of the Issuer, including its financial performance, Amaya may acquire or dispose of Common Shares as it deems appropriate, in open market purchases, privately negotiated transactions or otherwise."
Amaya's proprietary Insync Platform used by online and mobile casinos has been praised by analysts and industry insiders for its innovative functionality. The Insync Platform is an out of the box all inclusive gaming solution for operators of both network and mobile server based gaming.
Recent rumors of Cryptologic's less than sunny financial position and shareholder discontent have been reportedly put to rest after the company's implemented budget cutting and restrained spending measures began to show fruition with the increase in overall profits.
Cryptologic has recently concluded an independent strategic review targeting potential new directions for the company as well as strategic asset relocation. Amaya has been seeing a steady market share growth over the last year and has recently announced a letter of intent to supply the Dominican Republic with its online gaming platform.
---
Tags: Amaya, Amaya Gaming, Amaya Invests, Computing, Cryptologic, Cryptologic Gaming, CryptoLogic Inc, David Baazov, Dominican Republic, Entertainment, Gambling, inclusive gaming solution, Ireland, Massively multiplayer online game, Mobile gambling, Montreal, network, online and mobile casino software, online and mobile casinos, online gambling hubs, online gaming platform, President and CEO, Server based gaming, United Kingdom, USD
Blackjack Strategy

Strategy Chart
Casino Strategy
Online Strategy
Casino vs Online
Advanced Strategy
Beginner Mistakes
Bad Betting Systems