President of Samsung Excites Eager US Gamers with Galaxy S II News
Jul 23, 2011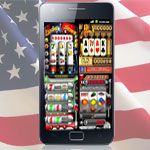 Galaxy S II in USA
Samsung has made the day of American mobile gamers much more brighter with its latest announcement.
The President of the Korean company just shed light on the release date of Galaxy S II in US. We quote Shin Jong-Kyun: "We expect to release the Galaxy S2 in the U.S. market sometime in August." Previously mobile casinos fans had only rumors, suggesting the monster smartphone was scheduled to make an appearance on the US market by the end of August.
Considering that this information comes directly from the man in charge, Android casinos regulars can start preparing themselves for the unprecedented mobile casino action on the Galaxy S II. Shin Jong-Kyun shared no further details on the pricing policy or the carriers, where the smartphone will be available first.
For the full technical information on the extremely popular Galaxy S II please read our (Samsung Galaxy S II Review Excites the Best Mobile Casino Gamers) article. In preparation of mobile gambling on the Galaxy S II, mobile gamers can select a mobile casino, suitable for their current phone with the help of Casino Mobile Finder. BlackjackChamp's very own free tool – Casino Mobile Finder will help mobile gaming fans to choose the best mobile casino for their smartphone in a matter of seconds.
US mobile gamers are welcome at Slotland Mobile Casino, where Android fans can enjoy twenty unique mobile casino game titles, guaranteeing hours of quality fun. Slotland Mobile Casino awaits new members with a 100% Max. $100 welcome bonus.
---
Tags: Android, Blackjack, Computing, free tool, Mobile gambling, Mobile game, mobile software, Mobile telecommunications, President, Samsung Excites Eager US, Samsung I7500, Samsung mobile phones, Shin Jong-Kyun, Smartphone, smartphones, T-Mobile, Technology, United States, USD
Blackjack Strategy

Strategy Chart
Casino Strategy
Online Strategy
Casino vs Online
Advanced Strategy
Beginner Mistakes
Bad Betting Systems