The week in pictures: October 21st- 27th, 2014
Oct 28, 2014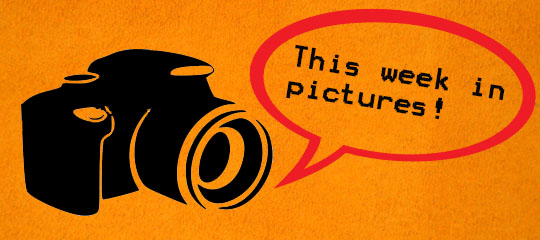 There was no end of big news stories last week creating headlines and in some cases feeding off them so lets take a look at what made the news in both your world and ours
It was discovered this week that Nazi War criminals were being paid US social benefits despite having left the country numerous years before. In a secret deal the US government had offered the continued payments in return for the Nazi's leaving their country and many accepted. Of course the US Justice Department has denied this, but unfortunately for them the evidence of official records show it to be true with four suspected Nazi war criminals still living in Europe on US benefits.
Not that there's a lot of benefit in returning to the US if you're a nurse that's been helping treat Ebola patients in West Africa, as Kaci Hickox will tell you. She flew back to the states and was immediately set upon by a media led hysteria that resulted in an overly pushy questioning that made her perspire. Sweating is now apparently a federal crime in the US and she was immediately placed in a mandatory 21 day isolation quarantine, despite being perfectly healthy.
Unlike Michael Zehaf-Bibeau who was and is anything but. This radicalized Canadian took it upon himself to stage a one man terrorist attack first shooting dead a solider at Ottawa's National War Memorial before hijacking a car and driving to the Parliament building where he rushed the doors guns blazing. As politicians of every hue cowered behind closed doors it was a 58 year old Sergeant-at-Arms who rushed, shot and killed the intruder.
Of course it wasn't an intruder that Oscar Pistorius killed in his bathroom, but his girlfriend Reeva Steenkamp, and having been found guilty of "culpable homicide" the Judge, Thokozile Masipa, sentenced him to five years despite protests from his defense lawyer. Due to serve at least 10 months of his five years in all but solitary confinement his family have said he's looking forward to paying back society, which is an act of political spin as yet unequaled anywhere.
It was a packed week in sport with the Caterham Formula 1 team facing bankruptcy. Having been placed into administration they may well miss the next two events (including the US Grand Prix) with any more absences than that voiding their contract, something they're desperate to avoid. Will they manage to keep on racing? Find out in our daily news pages. In the meantime lets look back at some of the pictures and stories that made our week last week.
1. Platinum Play Casino offered a cool promo for Red Hot Devil Slot. You can resist everything but the temptation to win big.

2. Apple fans can't wait to get their hands on the second installment of iPad Air and the third generation of the popular iPad Mini.

3. Bet365 Casino offered an amazing weekend promo that guaranteed to delight customers by boosting their playing accounts.
4. BlackJack Champ released a rational guide to winning money consistently at blackjack. Read and learn!

5. Blackjack was invented in Europe. Here is a look at European blackjack rules and a few of the best casinos on the continent.

6. High-rolling can't be counted on for donations any longer which has propelled many Las Vegas NGOs to expand their current areas of focus.

7. Tell me what's your game…BlackJack Champ found out what casino games say about players' personality.

Meanwhile Google executive Alan Eustace dropped from 135,000ft into the record books for the highest ever parachute drop, beating Felix Baumgartner's effort, and the Queen took to twitter to open a new exhibition at the Science Museum in London dedicated to the information age. You, of course, can keep up with the all the information you need in this day and age on BlackJack Champ's daily news pages, so check those out to keep up with the Winsors.
---
Tags: Alan Eustace, Bet365, Blackjack, blackjack guied, Bookmakers, Environmental Protection Agency, Europe, European blackjack rules, high rollers donations, iPad, las vegas blackjack rules, London, macau blackjack rules, Michael Zehaf-Bibeau, new slots, nurse, Oscar Pistorius, Ottawa, Ottawa's National War Memorial, Parliament building, queen, Science Museum, slots games, the US Grand Prix, United States, US government, US Justice Department
Blackjack Strategy

Strategy Chart
Casino Strategy
Online Strategy
Casino vs Online
Advanced Strategy
Beginner Mistakes
Bad Betting Systems