The week in pictures: November 25th – December 1st, 2014
Dec 2, 2014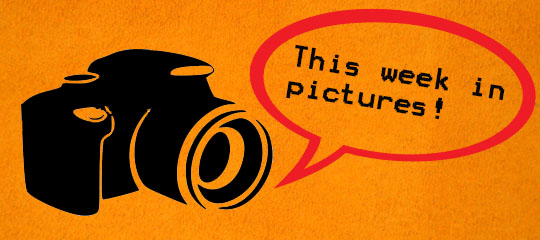 Last week saw a fascinating array of occurrences around the world and so lets take a look back at some of the headline grabbers
Crime novelist PD James passed away at the grand old age of 94 leaving behind a collection of work that won her the respect and plaudits of the entire writing world. With over 20 books to her name she is perhaps best known for "Children of Men" that was made into a box office success staring Clive Owen, and her detective series featuring the character Adam Dalgliesh sold millions of copies around the world being adapted in various forms for the small screen. She left the world peacefully at her home in Oxford. She will be missed.
Rioting broke out in the Missouri town of Ferguson after a jury verdict failed to charge officer Darren Wilson with any crime following his shooting of unarmed black teenager Micheal Brown on August 9th of this year. The National Guard was called in to restore order after several buildings were set ablaze and tens of arrests were made as the community displayed its disappointment with what it sees as yet another failure of authorities to address the deteriorating relationship between the mostly black population and almost entirely white police force.
As Thanksgiving marked the start of the Xmas shopping season in the US, Republican Elizabeth Lauten took it upon herself to post some harsh words of criticism aimed at the daughters of President Obama on Facebook. Having used the two teenager's dress sense as a political weapon against their father, she was rounded damned by just about everyone and the foolish right-winger quickly deleted her outrageous posts and apologized. Her apology proved less than adequate and the ire of the internet remained focused upon her placing her position in jeopardy.
In sport Snooker's Ronnie O'Sullivan made light work of getting into the third round of the UK Championship against Peter Lines, winning 6-3, but had a few words of criticism for the venue citing the quality of the tables as "shocking" and the atmosphere "like asking Roger Federer to go play on court 13 at Wimbledon in front of three men and a dog" which doesn't sound all that appealing. Will he allow this lamentable circumstance put him off his game? You'll have to check our daily news pages to find out, meanwhile lets look back at what grabbed our headlines last week.
1. Last week, players had the chance to enjoy some of the thrilling slot and table games at the fabulous Unibet Casino.

2. Uptown Aces Casino is ranked as one of the most visited gaming destinations due its vast gaming services that include over 150 game and huge promos.
3. As mobile app developers have figured out a way to spy on consumers and see exactly what they need to do to get them to buy more, the mobile casino industry is looking forward to a brighter and more profitable future.

4. Blackjack Champ told the story of blackjack legend Edward O. Thorp, the pioneer of card counting systems.

5. People all over the world are gambling on their mobile. US is no exception. Blackjack Champ took a look at the American mobile gambling.

6. Players earned some impressive rewards with the Cash Escalator promo at the popular Bet365 Mobile Casino.

7. Players had a chance to earn a great deal of money with the amazing Game of the Week promo at BetVictor Casino.

Meanwhile Black Friday saw the massive consumer spending slightly down on previous years with many stores beginning their sales on Thanksgiving itself, the trend for midnight openings and mad stampedes having moved to the UK where the police were called to several sales, and the Swiss took part in a referendum that rejected both a tax reform from the left and an immigration limitation from the right in a country where any proposal with 100,000 people supporting it goes to a popular vote. What will they vote on next? You better keep an eye on our daily news pages to find out.

---
Tags: Bet365 Casino, Bet365 Mobile Casino, BetVictor Casino, casino gambling news, Children of Men, Clive Owen, Crime novelist, Darren Wilson, Diplomatic Relations, Elizabeth Lauten, Facebook, Game of the Week, Golden Ticket slot, Micheal Brown, mobile casino, mobile gambling news, National Guard, Obama, Oxford, Peter Lines, President, Roger Federer, Ronnie O'Sullivan, Thanksgiving, the UK Championship, United Kingdom, Uptown Aces, Wimbledon
Blackjack Strategy

Strategy Chart
Casino Strategy
Online Strategy
Casino vs Online
Advanced Strategy
Beginner Mistakes
Bad Betting Systems