Bovada
Casino
InetBet
Casino
Videoslots
Casino
Spin
Palace
Raging
Bull
32Red
Casino
High Noon
Casino
RoyalVegas
Casino
The week in pictures: June 16 – June 22, 2015
Jun 23, 2015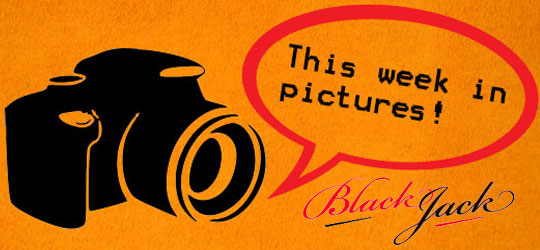 So many important news stories hit the headlines last week it's probably a good idea to look back over some of the biggest
South Carolina was the scene of an horrific attack by a young white supremacist on the congregation of a black church in Charleston. The twenty one year old Dylann Roof shot and killed nine people before being arrested and charged with murder. The incident raised yet more questions about racism within American society and highlighted issues the nation still faces with gun control with a member of the NRA, National Rifle Association, executive actually blaming the church for the deaths because the congregation weren't allowed to carry guns in church in comments he hastily deleted from the internet.
The joint European currency, the Euro, faced an even more uncertain future last week as the Greek government and EU completely failed to reach a deal over its nations debt. With the EU insisting on heavy handed austerity measures that would worsen the plight of the Greek population, and the Greeks asking for more reasonable behavior from the European Central Bank, International Monetary Fund and other international lenders. Greece has a deadline of June 30th make a repayment of one point six billion Euros, failure to make payment will result in a default on the debt and exit from the Euro.
The 2016 Presidential race got yet another candidate last week as Donald Trump, a man with independent hair and no sense of shame, announced he'd be running for the White House. The casino-owning billionaire, speaking at Trump Tower, Manhattan, said that the American dream was dead and that a large part of the problem was Mexicans talking jobs, being gun runners, dealing drugs and raping people. His concept of a wall between the two countries paid for by the Mexican government perhaps an indication of just how farcical this vanity run at political office will be for the rest of us to watch.
In sport double Olympic gold medallist Mo Farah released a statement declaring he had never taken performance-enhancing drugs after allegations surfaced about his coach Alberto Salazar, being involved in doping with US athlete Galen Rupp. Despite strenuous denials the witch-hunt continues against Mo, but will it all blow over? You'll have to read our daily news pages to find out, but in the meantime lets take a few moments to look back over the big stories we covered over the last week.
1. Royal Panda Casino offered amazing Blackjack games and many other online and mobile casino titles for all players.
2. Bet365 Casino offered three pleasant blackjack types with rewarding side bet options and beautiful live dealers.
3. BlackJack Champ was at the movies. We re-watched Casino, the classic movie and thought of sharing…
4. Jubise Casino prepared 12 amazing blackjack games and numerous casino bonuses in order to please the game's devotees.
5. Lucky Nuggets Casino offered more than 47 blackjack styles for all players with additional bonuses and tips to increase their chances.
6. Drake Casino invited all blackjack enthusiast for a spectacular 21 tournament with amazing prizes and small entry fee.
7. Casino Room offered 50 free spins for all players on the release day of the highly anticipated Neon Staxx slot.
Meanwhile a cat in Los Angeles has been awarded for its bravery in defending its autistic six year old owner from the attack of a neighbor's dog. Tara, an adopted pet, saw off the dog which had Jeremy Trianafilo by the leg, by biting and then chasing the animal away only to return to Jeremy's side afterward. The Society for the Prevention of Cruelty to Animals presented the award with the trophy suitably adjusted to National Hero Cat from its more usual reference to canine winners of the past.
---
Tags: 2016, Alberto Salazar, Donald Trump, Dylann Roof, ECB, EU, Galen Rupp, IMF, Jeremy Triantafilo, Mo Farah, NRA, Society for the Prevention of Cruelty to Animals
Blackjack Strategy

Strategy Chart
Casino Strategy
Online Strategy
Casino vs Online
Advanced Strategy
Beginner Mistakes
Bad Betting Systems