Bovada
Casino
InetBet
Casino
Videoslots
Casino
Spin
Palace
Raging
Bull
32Red
Casino
High Noon
Casino
RoyalVegas
Casino
The week in pictures: June 29 – July 7, 2015
Jul 7, 2015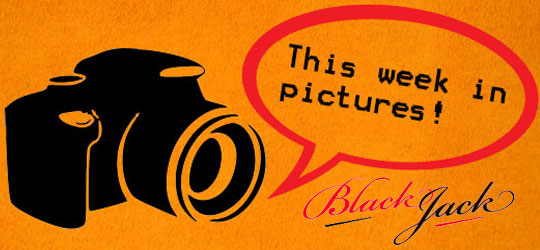 There were no shortages of news last week so lets take a moment or two to look back over some of the big stories that grabbed the headlines over the last seven days
In Beijing the government of Xi Jinping took steps last week to forestall the continued slide of local share prices where markets like the Shanghai Composite Index have seen a collapse that has wiped nearly 30% of their value out in just three weeks, that's some 3 trillion dollars in value gone. Banning IPOs and setting up a stability fund with help from mutual funds, senior brokers and fun managers, who've pledged 19 billion dollars of their own money, it is hoped to halt the slide.
Greece saw massive celebrations on Sunday as supporters of the country's Syriza led government rallied after the results of the referendum came in with 61.3% of voters rejecting the Eurozone's imposition of yet more austerity measures. Prime Minister Alexis Tsipras said that despite the vote there would be "no easy solutions" something almost certainly echoed in the halls of power that the Euro elite inhabit. Greece may well still be ejected from the Eurozone for not buckling under.
Reddit found itself slowly shutting down last week as numerous important unpaid moderators on the site took it upon themselves to close nearly 300 subreddits in protest at the sacking of Victoria Taylor seen by many as being the entire "trustworthy" portion of the Reddit staff. Her leaving calls into question the entire ethos behind Reddit and flies in the face of user demands and desires. With many now threatening to leave as a result of her expulsion Ellen Pao, CEO, apologized for letting users down.
In sport the USA beat Japan 5-2 in a thrilling finish to the Women's World Cup in Canada. America started strong scoring four goals in the first sixteen minutes and although Japan snatched back a couple of consolation goals it was a dominant performance from the first nation to win the Women's World Cup three times. Will their male counterparts ever achieve the same? You'll have to read our daily news pages to find out but in the meantime here's a look back at the stories we covered last week.
1. Blackjack Champ took a look at the greatest blackjack tournaments and found a great one at Drake casino.
2. We took a look at Casino Room's blackjack tables and we're definitely recommending them.
3. Royal Panda Casino has once against made one of their lucky players extremely happy by rewarding him with USD 107,470.
4. Royal Vegas Casino continues its EUR 1 Million Cruise campaign giving a chance to win an incredible cruise trip to their players.
5. Blackjack casino gave a review to one of the most popular online gaming sites and its blackjack tables, Casino Room.
6. Full Tilt is offering great blackjack games in addition to their well known poker. BlackJack Champ took a look and knows all about it.
7. BlackJack Champ made a brief review of the new Blackjack android version of this casino classic.
Meanwhile evolutionary biologist Simon Conway Morris has claimed we should stop worrying about little green men from outer space, because it is entirely likely any aliens would actually resemble us having been placed under the same evolutionary pressures as we have. He went on to claim that not only would the aliens look like us but that their home planet would be very much akin to Earth even including versions of mushrooms and sharks amongst their natural evolutionary process.
---
Tags: Alexis Tsipras, Beijing, Canada, Ellen Pao, Eurozone, Greece, IPO, Japan, Reddit, referendum, Shanghai Composite Index, Simon Conway Morris, USA, Victoria Taylor, Women's World Cup, Xi Jinping
Blackjack Strategy

Strategy Chart

Casino Strategy

Online Strategy

Casino vs Online

Advanced Strategy

Beginner Mistakes

Bad Betting Systems