The week in pictures: September 29 – October 5, 2015
Oct 6, 2015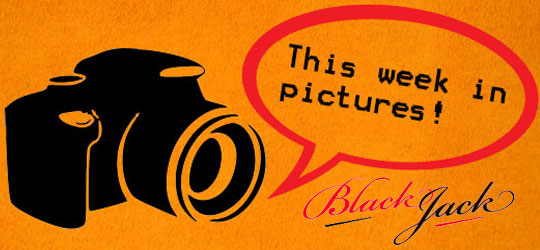 There was no end of big news stories last week so let's take the time to review some of the largest that grabbed our headlines and those of publications around the globe
NASA, the American National Aeronautics & Space Administration, revealed it had found evidence of liquid water flowing on Mars during its summer months. Highly salted the liquid leaves dark stains on the surface of the planet and although scientists are unsure of the liquid's origin, either rising from sub-surface or condensing out of the thin atmosphere, they hoped it would narrow their search for life on the planet. "Mars is not the dry, arid planet that we thought of in the past." Said Jim Green of NASA.
A contingent of 34 Russian combat aircraft sent to Syria by Vladimir Putin to support his ally President Bashar Assad in the long running civil war began air strikes against various rebel groups last week. With both Islamic State and other Anti-Assad groups targeted the US described the Russian intervention as "indiscriminate", especially as some groups hit were financed and supported by the US. America's own air operations over the country continued unabated.
Umpqua community college in Roseburg, Oregon, was the scene of another school shooting last week. A student enrolled on a writing course, one Chris Harper-Mercer, a British born 26 year old, opened fire killing nine classmates and injuring another nine people in the 45th mass school shooting in the US just this year. Apparently targeting Christians the gunman's motives were not immediately clear and once again the gun control debate is front and center in the USA.
In sport US fighter Adrien Broner won the WBA light-welterweight title in front of home fans in Cincinnati last week when his bout against Khabib Allakhverdiev was stopped in the 12th round. The 26 year old boxer now has a record of 31-2 with 23 knockouts to his name. The question is, can he continue his career of title wins? You'll have to read our daily news pages to find out if he can. In the meantime here's a look at some of the major stories we covered over the last seven days.
1. Shaquille O'Neal and Dynamic Gaming Systems announced Shaq Jack, the result of their four year collaboration.
2. Interblock announced that they're bringing more than 200 electronic blackjack machines to New York State based casinos.
3. Jubise Casino published a new coupon code for the weekend, providing a nice way to bring out the best of your casino experience.
4. Skill-based gambling was in the center of attention at the Global Gaming Expo only two weeks after the linked bill's approval.
5. Rich Casino offered tickets for all deposits over $100 that might secure you an all-inclusive trip to discover Africa.
6. Genting Casino revealed their new design and offered a great no deposit bonus that is available for all their new members.
Meanwhile the importance of space flight was highlighted last week when Professor Stephen Hawking warned of possible alien invasion noting that any encounter between humans and extraterrestrials was likely to have the same result that Columbus discovering American had on the Native American population. "Advances aliens," he said in an interview with El Pais, "would perhaps become nomads, looking to conquer and colonize whatever planets they can reach."
---
Tags: Adrien Broner, Bashar Assad, Chris Harper-Mercer, Columbus, El Pais, Jim Green, Khabib Allakhverdiev, NASA, Oregon, Roseburg, Russia, Stephen Hawking, Syria, Umpqua community college, US, Vladimir Putin, WBA
Blackjack Strategy

Strategy Chart

Casino Strategy

Online Strategy

Casino vs Online

Advanced Strategy

Beginner Mistakes

Bad Betting Systems