The week in pictures: October 27 – November 2, 2015
Nov 3, 2015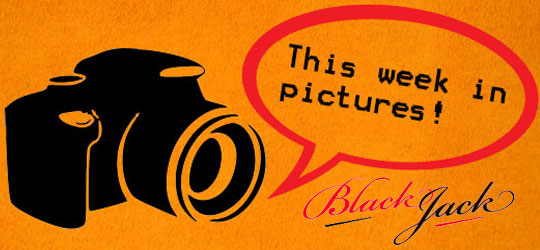 Last week saw a whole raft of big news stories pop up so let's just quickly revisit some of the most important that hit the headlines in the last seven days
In Bucharest last week a performance by the heavy metal band "Goodbye to Gravity" ended in tragedy when pyrotechnic effects used on stage started a fire that swept through the "Colectiv Club" killing twenty nine and hospitalizing another 140 with severe burns, smoke inhalation and other injuries. Three days of official mourning were put in place by authorities who say the death toll may rise as investigations continue with the President, Klaus Lohannis, saying safety regulations were ignored.
An Airbus 321 operated by Kogalymavia, the Russian airline also known as Metrojet, broke up at high altitude on Saturday above Egypt's Sinai peninsula killing all 224 people on board, most of them Russian tourists making their way home from the Red Sea resort of Sharm el-Sheikh. Militants connected to Islamic State took responsibility for the aircraft's loss but despite these claims being dismissed by experts, some airlines have suspended flights over the area until after the investigation.
Turkish elections held last week saw the ruling Justice & Development party of Recep Tayyip Erdogan reclaim a parliamentary majority winning some 316 seats allowing them to form a government without coalition, something that had failed to be achieved since elections in June. Main opposition party, the CHP, won just 25.4% of the vote although the pro-Kurdish HDP gained 59 seats, above the 10% required to enter parliament, as did the Nationalist Movement Party, MHP, with their win of 41 seats.
In sport the All Blacks became the first team to successful defend a Rugby World Cup title beating Australia in a thrilling final 34-17 at Twickenham in front of 80,000 fans. With some great kicking from Carter, and tries from Milner-Skudder, Nonu and Barrett New Zealand simply outclassed their antipodean neighbors. The question is can they do it three times in a row? You'll have to read our daily news pages to find out, but in the meantime here's a look at the big stories we covered last week.
1. Our players were given two more excellent choices of  in the second part of our weekly Blackjack Casino Recommendation!
2. You must have tried the great Bet365 Mobile Blackjack tournaments by now! If not yet, go ahead and do it!
3. RealBet Casino is here on Blackjack Champ! This great new site combines sports betting, slots, but most important of all, the best of table games and blackjack!
4. The 21st of each month is now a reason for celebration, since Royal Panda offer $210 in bonuses, every month!
5. Seminoles are now on the warpath against the state of Florida, suing for their rights to run blackjack in their casinos.
6. Casino Room provided bonus codes for their players to celebrate Halloween in the best of spirits!
7. Interested in Spanish 21 blackjack? Read our guide to master this alluring blackjack game!
Meanwhile Chilean primary schools were forced to return hundreds of copies of the children's fairy tale "Little Red Riding Hood" after they were accidentally sent copies of "Little Red Riding Hood Eats The Wolf" instead, a collection of short erotic stories featuring depictions of sex and violence by Pilar Quintana who said "I'm surprised that people were shocked about the sexual content of the book." He also went on to say that he felt the book wasn't inappropriate reading material for young people.
---
Tags: All Blacks, Barrett, Bet365 Mobile Blackjack, blackjack in Florida, Bucharest, Carter, CHP, Colectiv Club, Goodbye To Gravity, HDP, Justice & Development Party, Kogalymavia, Little Red Riding Hood Eats The Wolf, Metrojet, MHP, Milner-Skudder, New Zealand, Nonu, RealBet, Recep Tayyip Erdogan, Red Sea, Rugby World Cup, Seminole tribe of Florida, Sharm el-Sheikh, short erotic stories, Sinai peninsula, Spanish 21, Twickenham
Blackjack Strategy

Strategy Chart

Casino Strategy

Online Strategy

Casino vs Online

Advanced Strategy

Beginner Mistakes

Bad Betting Systems