This Week in Pictures: January 12 – January 18, 2016
Jan 19, 2016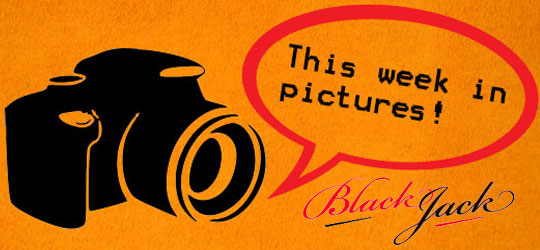 The world saw numerous massive news stories over the course of last week so let's look back over some of the most prominent.
President Rouhani of Iran greeted the dropping of US and EU economic sanctions as a "turning point" in his nations international relations following the International Atomic Energy Agency reporting that his country had complied in full with the deal arranged to curb its development of nuclear weapons. The significant agreement also included a prisoner swap take place in which several Iranians were freed in exchange for some Americans including Washington Post reporter Jason Rezaian.
There were two major terrorist incidents last week. In Jakarta, the Indonesian capital, a busy Starbucks in a central commercial district was attacked by a number of gunmen, suspected of being allied to IS, using explosives, whilst in Burkina Faso a hotel popular with foreign visitors in the capital Ouagadougou was attacked by Al-Quaeda In The Islamic Maghreb with twenty eight people of various nationalities killed and another fifty six wounded in a siege that was ended by French Special Forces.
The entertainment world was rocked by two tragic deaths last week as both David Bowie and Alan Rickman lost their battle with Cancer and died at the age of 69. Bowie's influential career in music spanned four decades, including a time as Ziggy Stardust, and included hits like "Space Odyssey" and "Let's Dance". Alan Rickman stared in "Robin Hood Prince Of Thieves" and "Galaxy Quest" but will be most fondly remembered for his role as Severus Snape in the Harry Potter series of movies.
In sport Zlatan Ibrahimovic put Paris Saint Germain a massive 23 points clear of everyone else at the top of Ligue 1 after a late goal against Toulouse to give them yet another win in a total domination of the league. The question is now not if they'll take the title, but by how much, and if you want to know the answer you'll have to keep up with our daily news pages. In the meantime let's take a moment to look back over some of the big stories from around the world we covered over the last seven days.
1. Royal Panda Casino held a slot-party with nice bonuses to celebrate their player's impressive win.
2. Drake Casino started the new year with a great online blackjack tournament that features a $4,000 prize pool.
3. RTG's newest slot, the God of Wealth was released at Raging Bull Casino.
4. Rivers Casino was fined $15,000 for overriding an error message on an automatic blackjack card shuffling machine.
5. The Pennsylvania Gaming Control Board reported record gambling revenues from 2015.
Meanwhile in India a suspect accused of swallowing a necklace he had stolen was made to eat forty bananas by police in an effort to retrieve it. Prior efforts to gain back the goods by means of an enema failed and surgery was rejected by the force as being too expensive, so the boys in blue fell back on tried and tested methods and relied on the prisoner's digestive system. The necklace was eventually recovered, washed and disinfected by the accused who then appeared in court charged with theft.
---
Tags: Al-Quaeda In The Islamic Maghreb, Alan Rickman, Burkina Faso, David Bowie, EU, French Special Forces, Galaxy Quest, Harry Potter, Indonesia, International Atomic Energy Agency, Iran, Jakarta, Jason Rezaian, Let's Dance, Ligue 1, Ouagadougou, Paris Saint Germain, President Rouhani, Robin Hood Prince Of Thieves, Severus Snape, Space Odyssey, Starbucks, Toulouse, US, Ziggy Stardust, Zlatan Ibrahimovic
Blackjack Strategy

Strategy Chart
Casino Strategy
Online Strategy
Casino vs Online
Advanced Strategy
Beginner Mistakes
Bad Betting Systems