Report: Mobile Gaming Industry Worth over $48 Billion by 2015
Sep 8, 2010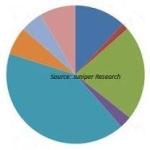 Mobile casino growth
UK-based research firm Juniper Research has released an extensive new study on mobile gaming entitled "Mobile Gambling Markets: Casinos, Lotteries & Betting 2010-2015," which indicates massive expansion and a switching of market emphasis is about to come. Growth is expected in the market right through to 2015, when it should be worth over $48 billion (€38 billion) worldwide.
Though currently the overwhelming majority of betting in mobile casino games in done in just two markets – Japan, "responsible for the bulk of global mobile gambling transactions" and the United Kingdom, which "account[ed] for much of the remainder" up to 2010 – Juniper sees emerging markets as a powerful force in the industry and forecasts that China will soon be a significant no. 3 in overall transactions made.
A "sharp surge in adoption of the mobile lottery service launched by VODone" is encouraging more Chinese players to try mobile gambling. And Juniper is also positive about more U.S. players trying mobile gaming with an anticipated loosening of regulations there: "State lottery providers are anxious to explore new distribution channels, with US lottery sales from traditional outlets in decline. The upshot is that several lotteries are in the latter stages of discussion with mobile technology providers with a view to launching mobile lottery services in 2011."
Play the games of the future by trying out an approved mobile casino today!
---
Tags: Casino, EUR, Gambling, Gambling in South Africa, Japan, Lottery, Mobile gambling, Mobile game, mobile lottery services, mobile technology providers, Mobile telecommunications, Online gambling, United Kingdom, United States, USD
Blackjack Strategy

Strategy Chart
Casino Strategy
Online Strategy
Casino vs Online
Advanced Strategy
Beginner Mistakes
Bad Betting Systems