Mobile Gambling Group Probability Predicts Surge in Android Casinos
Oct 26, 2010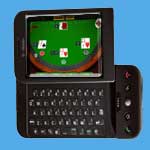 Android casino
The proliferation of Android Casinos is something gamblers can bet on safely.
In business, as in life, there is much to be uncertain about. Even so, the wise man seeks patterns which indicate trends. Many of these trends will indicate needs and desires. When this man has the makings of an entrepreneur, he gambles that he can create and market a new product which will answer these needs, better and/or more rapidly than anyone else. It isn't always necessary to be the best, but being among the first can be a tremendous boost to establishing brand and therefore a gaining a grip on the market.
Hardly sooner had Apple put their smartphone into the hands of consumers than ambitious mobile gambling firms started trying to tackle the obvious demand. For years they struggled and made disappointing promises, not aided in the least by Apple's restrictive and fickle policies.
Finally, the CEO of Probability, a UK mobile betting firm, was able to announce: mobile gaming is "happening now". Probability launched "Touch Casino", an iphone casino application created specifically for the Apple iPhone, last July. Now the rest of the industry is scrambling to catch up.
Probability, however, wasn't content to start resting on their laurels. They saw the opportunity presented by Android, another smartphone with a more open development platform. Developing from their expertise and experience in the mobile gambling market, Probability has been hard at work producing a dedicated Android application. The pending software has not been released yet, but the new application has already been approved for release in the official Android Marketplace, Google's answer to the Apple iTunes store.
Probability's leadership stand among a growing number who believe Android presents a greater opportunity than the Apple iPhone. As an open platform, developers can create and market the applications they desire and believe in without gambling upon approval from Big Brother. Likewise, consumers can obtain and use the software they desire without voiding their warrantee. It is no wonder recent reports suggest by 2012, Android will have a 19% market share, surpassing Apple's meager 16% despite the fashionable dictator's 3 year head start.
As consumers flock to Android, they will be looking to do everything they already enjoy doing on the internet. Just as online casinos are proliferating in answer to consumer demands, Android casinos are certain to join the march into the future of smartphones and mobile gambling.
---
Tags: Android, Android Marketplace, Apple, Apple Inc., Apple iPhone, Apple iTunes store, Cloud clients, Computing, entrepreneur, Google, iPhone, ITunes, official, online casinos, Smartphone, smartphones, United Kingdom
Blackjack Strategy

Strategy Chart
Casino Strategy
Online Strategy
Casino vs Online
Advanced Strategy
Beginner Mistakes
Bad Betting Systems