Bovada
Casino
Betadonis
Casino
InetBet
Casino
VideoSlots
Casino
Spin
Palace
Raging
Bull
32Red
Casino
High Noon
Casino
RoyalVegas
Casino
Play Blackjack for Bottle Caps in Fallout: New Vegas
Oct 27, 2010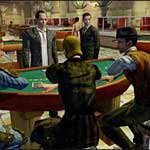 Fallout Blackjack
Fallout: New Vegas is the latest installment to Obsidian Entertainment's popular post-apocalyptic role-playing series, bringing the action to Las Vegas and the Mojave Desert.
Sometimes after a long day of gunning down real and imaginary friends and trying to solve some of virtual life's mysteries, a player wants to take a break to wager, socialize, and hopefully make some money winning at blackjack. The developers at Obidian clearly decided gamblers shouldn't need a separate game for that.
Fallout: New Vegas takes players to Sin City of 2281. Despite a nuclear war devastating the United States, Las Vegas was not directly struck. The buildings are intact and mutations are negligible. Now various factions compete for power.
Somehow bottle-caps have become an accepted and coveted currency. Gamers who enjoy gambling and have collected at least 2,000 caps can take their money to one of several casinos and exchange the caps for chips which can be used to play blackjack, slots, and roulette.
These games function much like real life, but in this role playing game, characters have a "Luck" status. Players who have more luck will have a greater chance of drawing 10's, Aces, and face cards when they play blackjack. While slots seem to remain random, a player with more Luck will still somehow win more often. For roulette, luck also affects the probability of the ball stopping on your number or color. Players must have at least 5 Luck points for this feature to kick in.
Currently, players can only gamble for imaginary in-game currency. However, Fallout: New Vegas, like many modern games allows third party mods. It is only a matter of time before an innovative online blackjack casino developer such as Microgaming takes the initiative to develop a plug-in so you can play for real money instead of imaginary bottle caps. We'll let you know the moment we find it.
---
Tags: Blackjack, Fallout, Games, Las Vegas, Microgaming, Mojave Desert, online blackjack casino developer, player, Slots-A-Fun Casino, Stanford Wong, United States, Windows games
Blackjack Strategy

Strategy Chart
Casino Strategy
Online Strategy
Casino vs Online
Advanced Strategy
Beginner Mistakes
Bad Betting Systems