iPad Casino Software Reaches Cutting Edge at JackpotCity Mobile Casino
Nov 5, 2010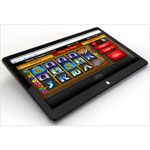 JackpotCity iPad Casino
JackpotCity Mobile Casino's new Apple iPad gambling software raises the bar not just for casino software, but software in general.
JackpotCity Mobile Casino's new software takes full advantage of iPad's latest touch screen technology to deliver the pinnacle mobile gambling experience. iPad owners can now wager anywhere and anytime as they commute back and forth, so long as they can obtain and maintain an internet connection.
Jackpot City's exciting selection of new iPad mobile casino games includes both table games and slots. Table games include blackjack, baccarat, and roulette. The internet slot games include persistent favorites like MegaMoolah and Tombraider.
The Apple iPad was launched last Apple and within the first three months sold over 3 million units despite some industry pundits questioning whether the device would be useful. Its successful launch put it in the vanguard of "tablet computing". Its fans find it ideal for browsing the web, reading electronic books and magazines, listening to music, and enjoying a variety of games, with or without wagering elements.
JackpotCity Casino was initially launched in 1998. Over a year ago, the brand launched its mobile venue JackpotCity Mobile Casino, powered by Microgaming's Spin3 software platform. Their current forays into iPad casinos place them at the avant-garde of this rapidly progressing industry. The mobile casino is heavy on the slots, but still offers a satisfying subset of the internet gambling games which initially made them popular. Moreover, their mobile platform continues to offer players the promotions and loyalty program which helped pave their initial success.
---
Tags: Apple, casino software, Casinos, electronic books, Entertainment, Gambling, Human behavior, internet connection, internet gambling games, internet slot games, iPad gambling software raises, Jackpot City, Microgaming, Online gambling, software platform, software takes full advantage, Table game, tablet computing, touch screen technology
Blackjack Strategy

Strategy Chart
Casino Strategy
Online Strategy
Casino vs Online
Advanced Strategy
Beginner Mistakes
Bad Betting Systems