HTC Desire HD, an Android Phone, Supports Major Millions Slots
Nov 10, 2010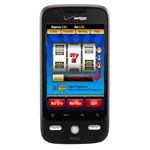 HTC Desire HD Casino
Mobile slots enthusiasts will love HTC Desire HD, as it is already supported by All Slots Mobile Casino software.
HTC Desire HD, codenamed "HTC Ace" is a smart phone from HTC Corporation utilizing Google's Android operating system, version 2.2 codenamed "Froyo" (a.k.a., "Frozen Yogurt").
It is the first phone to pack a 1 GHz MSM8255 Scorpion processor, a second generation Snapdragon processor. It carries 768 MB RAM and from 1.5 GB to 32 GB of internal memory capacity. Support for quad-band GSM, GPRS, and EDGE maximizes the phones potential to make and maintain internet connections that can be used for gambling online.
The HTC Desire HD features a large 4.3-inch, WVGA LCD capacitive touchscreen display. Incorporation of Adobe Flash 10.1, Dolby Digital Mobile, Sound Retrieval System WOW Surround Sound, and a wide array of other industry standard technologies and audio codices makes this an ideal device for visiting Android Casinos.
Another advantage to the HTC Desire HD, the device is support's All Slots Mobile Casino games, which include Major Millions. This mobile gambling application is designed to work with your smartphones web browser so no downloads are needed.
Major Millions is a 3-reel, 3-payline, 3-coin slot machine with a wild multiplier symbol. It is well know for its progressive jackpot which now holds over a half million dollars.
---
Tags: 1 GHz MSM8255 Scorpion processor, Adobe, Android, Android operating system, Desire HD, Google, GPRS, GSM, HTC Corporation, HTC Desire Smartphone, HTC Hero, HTC Tattoo, industry standard technologies, internet connections, Linux devices, Major, operating system, RAM, second generation Snapdragon processor, smart phone, smartphones
Blackjack Strategy

Strategy Chart
Casino Strategy
Online Strategy
Casino vs Online
Advanced Strategy
Beginner Mistakes
Bad Betting Systems