New Blackjack Variations Emerging at Online Casinos
Nov 12, 2010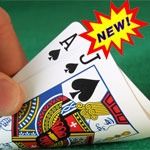 New Blackjack Games
Innovative table game developers are seeking new ways to make blackjack attractive for players and profitable for the casinos that host them.
The blackjack card games have seen many variations during a history over 400 years old. Blackjack has always had a considerably lower house edge than any popular casino game – indeed, for many players, that low edge is part of the attraction. For the house though, this can be a problem, as evidenced by blackjack gamblers getting lucky at Borgata Casino in Atlantic City to the tune of $9 million dollars.
Yet, for every problem, there is a solution and when millions of dollars are at stake, inspired entrepreneurs will seek out and exploit them both offline and in online blackjack casinos, within legal and marketable limits.
PokerTek, Inc. is adding a new side bet called "Lucky Ladies" to their electronic gaming tables. This bet will be placed before a hand is dealt. The player bets that his or her first two cards will tally 20. The odds are less than one in 100 of winning this sidebet, but when the player wins this bet, the payoff will be between 4 to 1 and 1000 to 1, depending upon the particular card combination. Casinos will be empowered to set both wager limits and thereby maximum payoff amounts.
The Cake Poker Network has conceived "Tourney Blackjack". This is a game without any house edge because players don't play against the house. Instead, they are playing against each other, poker style. Players win by accumulating the most chips at the end of the game.
---
Tags: Atlantic City, Blackjack, Casino game, Casinos, online blackjack casinos, online casino, player, PokerTek Inc., Progressive jackpot, USD
Blackjack Strategy

Strategy Chart
Casino Strategy
Online Strategy
Casino vs Online
Advanced Strategy
Beginner Mistakes
Bad Betting Systems