Australian Broadcasters Breach License over Online Blackjack Ads
Nov 14, 2010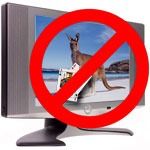 No blackjack ads
Australia's Interactive Gambling Act of 2001 (IGA) prohibits commercial television from promoting interactive gambling services.
Regardless, new findings by the Australian Communications Media Authority (ACMA) found that several Nine Network and Ten Network license holders are broadcasting advertisements for playing blackjack online. These are two of the three nation's largest television networks, both with stations in Sydney, Melbourne and Brisbane, as well as other cities. Channel 9 commands 26.8% of the nation's audience, while Channel 10 fetches 22.2%
Mr. Chris Chapman, ACMA Chairman, elaborated that this is the AMCA's first investigation into the act's prohibited advertisements. According to him, "All providers of television, radio and datacasting services need to ensure sure they are fully aware of and comply with their obligations under the IGA".
The IGA defines "interactive gambling services" to include online blackjack casinos and any other service which enables players to wager on the internet while playing either games of chance or games which blend chance and skill. Along with blackjack, these services include craps, roulette, slot machines, and poker. The rules also cover any form of mobile gambling.
The ACMA is taking into consideration that, despite nearly a decade, this is the first research into the dissemination of commercials forbidden by the IGA. They are therefore taking a graduated approach to achieving compliance and creating enforcement. Both Network Nine and Network Ten have consented to staff training and education to increase awareness of the IGA. These networks are now expected to report the process of this instruction to the ACMA.
---
Tags: Blackjack, Chris Chapman, Gambling, Interactive gambling act, interactive gambling services, Melbourne, NEW, online blackjack casinos, Online gambling, Sydney, television networks
Blackjack Strategy

Strategy Chart
Casino Strategy
Online Strategy
Casino vs Online
Advanced Strategy
Beginner Mistakes
Bad Betting Systems