Mobile Gamblers Sitting Tight for iOS 4.2 Will Need to Keep Waiting
Nov 12, 2010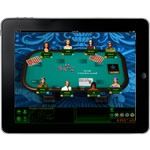 iOS 4.2 casino
Many mobile iPhone, iPod Touch, and iPad gamblers were looking forward to the release of Apple's iOS 4.2, which had been anticipated for release to today.
The new operating system will simultaneously unite the three devices onto a common firmware, enabling every iPhone casino game to work on an Apple iPad and iPod Touch devices. Likewise, iPad casino games should all operate on iPhones, and so forth.
The delay is apparently being caused by a bug which actually only seems to effect iPad devices, preventing them from successfully maintaining an internet connection through local Wi-Fi networks for more than a few minutes. There are some suggestions that this bug may also effect 3G connections on those devices which offer this connectivity. Needless to say, mobile gambling won't be very possible or fun on a device which cannot remain online.
Nevertheless, when Apple declares it ready, iOS 4.2 has some features which mobile gamblers will surely love. At the top of the list for many will be multitasking. It will now be possible for 3rd party applications to run in the background. This means, gamblers could play blackjack or slots while waiting for large files to transfer. The new "Task Completion" feature will allow an application performing a task in the background, such as downloading a new blackjack game, to close automatically, freeing your device's memory and conserving the device's power.
Players who get tired of reloading their favorite online casino applications and finding their way back to their favorite games will appreciate "Fast app switching" and "saved state". When users switch applications, the device will remember the state of the application as and when the player left it.
Gamblers who have trouble finding their preferred casino games among 180 applications scattered across eleven pages will appreciate the new "Folder" feature allowing users to group up to 20 icons together.
Neither last nor least in a long list of new features is background music streaming. Now gamblers won't need to choose between listening to Kenny Rogers sing "The Gambler" and playing poker online. The streaming music API will allow music to play in the background even while the user enjoys an iPad casino.
Apple is being very quiet about the problem and has declined to suggest a new launch date, but optimists are still hoping to see the new operating system in the next couple weeks.
---
Tags: 3G, Apple Inc., Apple iPod Touch Portable Audio Device, favorite online casino applications, internet connection, iPad devices, iPhone, IPod, IPod Touch, ITunes, Kenny Rogers, Linksys iPhone, Multi-touch, operating system, party applications, player, Portable media players, smartphones, Wi-Fi
Blackjack Strategy

Strategy Chart
Casino Strategy
Online Strategy
Casino vs Online
Advanced Strategy
Beginner Mistakes
Bad Betting Systems