Google Nexus S with Android Gingerbread Will Be More Focused for Online Gambling
Nov 16, 2010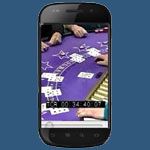 Nexus S Casino
As an Android phone, Google's forthcoming Nexus S is expected to be fully compatible with existing Android Casinos.
The blogosphere is beginning to fill with rumors and speculation regarding both Google's imminent smartphone the Nexus S and its pending operating system, Android 'Gingerbread. Google-CEO Eric Schmidt finally confirmed the phone's existence yesterday, November 15, at the Web 2.0 Summit.
There isn't much that can be said about this phone itself yet as Google is remaining most mysterious upon the matter. It is commonly believed that Samsung will be responsible for manufacturing the hardware for this mobile device. A device, widely believed to be the Nexus S, was demonstrated by Eric Schmidt with a connection to T-Mobile, suggesting that T-Mobile casinos will be available to this device.
Significantly more is known about Android Gingerbread, which is the expected operating system for the Nexus S even though it still hasn't been released yet. As an Android phone, almost any mobile phone casino compatible with existing Android devices should also be already attuned to the Nexus S.
While this new operating system is only expected to be a point version update (i.e., version 2.3; Froyo was version 2.2). Yet there are some features which will be of potential interest to both offline and online gamblers.
Support for Near Field Communication (NFC) is already confirmed in Android Gingerbread. This is interesting because it will enable the phone to act as a credit card, facilitating mobile payments. Unfortunately, NFC is only useful for distances of less than 4 inches (10 centimeters) so it won't enable gamblers to pay mobile casinos, but it could prove useful in brick-and-mortar resorts.
More interesting for mobile gamblers will be support for WebM (confirmed) and WebP (unconfirmed). Respectively, these are new file formats for movies and pictures which are expected to enable smaller files provide high-quality images. This will enable applications developed for the web in general and mobile phones in particular to offer more spectacular images while consuming less bandwidth. This makes the transmission faster and (when bandwidth is metered) cheaper.
The most attractive feature, which unfortunately isn't confirmed yet, is likely to be new support for 3D games. Newer slot games, such as Resident Evil Video Slot, are already taking advantage of 3D technology to enhance player experience. Once the Nexus S with Android Gingerbread is released, we can expect mobile game developers to start enhancing Android casinos with similar effects.
A new Android Marketplace specifically for 3D gaming is expected to coincide with support for the technology, but it's beyond speculation whether 3D gambling applications will be allowed in this area.
---
Tags: 3D gambling applications, 3D technology, Android, Android Dev Phone, Eric Schmidt, Google, Kogan Agora, mobile device, Mobile game, mobile phones, mobile software, Nexus S, offline and online gamblers, operating system, player, Samsung, Smartphone, smartphones, T-Mobile
Blackjack Strategy

Strategy Chart
Casino Strategy
Online Strategy
Casino vs Online
Advanced Strategy
Beginner Mistakes
Bad Betting Systems