Global Gaming Expo Conference in Las Vegas Spotlights Mobile Gambling
Nov 18, 2010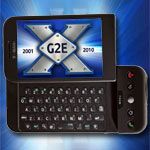 G2E Mobile Gambling
Throughout this week, the Global Gaming Expo (G2E) is providing a platform to display new mobile wagering games, alongside the latest gambling technology and thrilling new slot machines.
Las Vegas has been a mecca for both casual and professional gamblers. Now, during the G2E's tenth year, the ongoing discussion is how to stay relevant, profitable, and even lucrative in a future where mobile casino games are always at a player's fingertips. Betware Iceland's Aegir Saevarsson stated "Everybody here is losing business if they don't have an online presence… They like to play it online; they like it play it on their iPhones."
Judy Patterson of the U.S. American Gaming Association is looking for change even though "There's traditionally been a reluctance to expand gaming in the United States". However people are hungry for mobile gaming.
Bally Technologies' Bryan Kelly asserts "Everything that the casino wants to market to you today that we can do here [in Las Vegas], we can now do on your mobile device."
Despite American gambling laws, people around the world are using everything from aging desktop computers to the latest smartphones to wager real money making sports bets, visiting poker rooms, playing blackjack and other casino games. Gambling operators are developing Android casinos and iPhone casinos so enthusiasts can even wager while they are on the go.
Bill Lerner, a gaming analyst asserted that Las Vegas casino must expand online despite Americans being prohibited. He observes "These are trusted gaming brands".
Some of the Las Vegas casinos are already establishing themselves online. Invisible to Americans who get redirected to the main hotel site, Caesars Palace already offers a full casino game site and a bingo site. Meanwhile, trusted slot machine makers, teasing gamblers, are already offering free mobile gambling applications that are played with fake money, sort of like video games.
Currently, a typical visitor to Vegas only spends 5 days within the city. Then the trip is done and the consumer's money stops flowing into Sin City. Saevarsson suggests "… the casino would be interested in having the rest of the 360 days where they play their online game".
---
Tags: Aegir Saevarsson, Android, Bally Technologies, Bill Lerner, bingo site, Bryan Kelly, Caesar's Palace, Cardroom, Casino, casino game site, Casino token, Casinos, Gambling, Gambling in Macau, gaming analyst, iPhone, Judy Patterson, Las Vegas, main hotel site, mobile device, mobile gambling applications, online game, online presence, player, Poker, real money making sports bets, Slot machine, smartphones, U.S. American Gaming Association, United States
Blackjack Strategy

Strategy Chart
Casino Strategy
Online Strategy
Casino vs Online
Advanced Strategy
Beginner Mistakes
Bad Betting Systems