Mobile Gambling Revolutionizes the Gaming Industry
Nov 21, 2010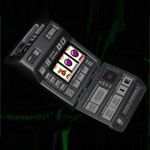 Mobile Slots
Executive officers running gambling operations see mobile devices as driving any future recovery within the gaming industry.
An associate of Spectrum Gaming Group, Gene Johnson moderated a panel at the Global Gaming Expo Conference in Las Vegas which spotlighted mobile gambling. While doing so, he took an opportunity to declare "The gaming [business] is being revolutionized by hand-held or mobile technology…. More and more people are using hand-held devices. It's now becoming part of our culture." Within the next 5 years, Johnson expects more gamblers will be using mobile devices than desktop computers to wager online.
A member of this panel Cantor Gaming CEO Lee Amaitis interpreted the phenomenal popularity of using mobile phones to access the internet is indicative of a "generation of people on the move" who desire mobile casinos.
Whereas many gambling operators are creating applications for third party device, Cantor Race and Sports Book has developed a unique mobile device branded the "eDeck". The eDeck is similar to the Apple iPad in size and is likewise wireless and touchscreen. The eDeck can be used to make sports book wagers on games, even placing in-game bets on players and actions on games already in progress. Additionally, it can be used to play Cantor's proprietary games such as XtraOdds Baccarat and XtraOdds Black Jack.
Vice president of interactive International Game Technology Alex Kelly s observed "Mobile technology is truly changing the way we get information, and communicate… In the U.K. we are seeing staggering growth … 150 percent month to month growth online."
Kelly asserted that regardless of gambler interest, the legal environment in the United States will need to change to make mobile gambling lawful, but regardless their customers and potential customers are already wagering online. "The United Kingdom was the first to legalize online and mobile gaming in 2005." After this, Australia, France, Italy, and Spain all updated their laws. "People realized that the culture of their society didn't drop out because online and mobile gaming was legalized."
Amaitis declared "We are working with regulators to show how we can make the (mobile) market safe and secure…. It's going to happen because people want to do it." However, Amaitis went on to explain that in the U.S. stigma prevents legalization. Meanwhile, unlawful wagering generates $400 billion every year, creating a "fantastic market for legal companies to operate". He concluded "We need to figure out a way to regulate it and make it safe… We can learn from the U.K. how to regulate and tax mobile gambling."
---
Tags: Alex Kelly, France, Gambling, Gene Johnson, hand-held devices, International Game Technology, Italy, Las Vegas, Lee Amaitis, Mobile, mobile device, mobile devices, Mobile gambling, Mobile game, Mobile phone, mobile phones, mobile technology, Mobile telecommunications, online and mobile gaming, Online gambling, panel Cantor Gaming CEO, Spain, United Kingdom, United States, USD, Vice president
Blackjack Strategy

Strategy Chart
Casino Strategy
Online Strategy
Casino vs Online
Advanced Strategy
Beginner Mistakes
Bad Betting Systems