Durban Casino Dealer Crowned Best Blackjack Dealer in South Africa
Nov 23, 2010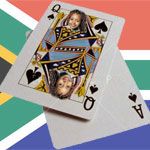 Best blackjack dealer
Nothile Mlita, a 24-year-old resident of Ntuzuma, was selected as the best blackjack dealer at this year's Tsogo Sun Gaming (TSG) competition.
Nothile Mlita is a relative new comer to the gambling industry. Entering the sector in 2004, this year's TSG competition, hosted at The Ridge Casino in Witbank, Mpumalanga was her first time competing as a blackjack card game dealer at the national level. Here she competed against 13 peers from seven different casinos.
Employed by Suncoast Casino and Entertainment World, she was nominated for this competition by her supervisors and managers after placing second at the company's internal competition.
Upon her success, Mlita stated "I'm very proud of my achievement, but the competition was nerve-wracking. The judges were such experienced people who knew everything about dealing. You had to let your mind work very fast to ensure you remained on top of your game."
At the TSG competition, dealers were examined for both their blackjack and roulette aptitude. Scoring on a scale between one and four, each dealer was required to model:
Accuracy
Chip handling
Customer relations

Table attentiveness
Versatility
Knowledge of blackjack strategy is, apparently, not specifically required for dealers, as the game rules, instead of mathematical probabilities dictate when the dealer should hold. Nor was blackjack lingo explicitly examined, though knowledge may have been considered with regard to skill and customer relations.
Tsogo Sun Gaming is a division of Tsogo Sun Holdings, the biggest black empowerment group in South Africa's leisure industry. They own seven world-class properties and service 21 million people per year. Their managers and staff were responsible for judging the competition. The competition is intended to raise the dealer standards and boost dealer confidence.
---
Tags: Blackjack, blackjack card game dealer, blackjack card game dealer at the national level, blackjack dealer, Croupier, dealer, Nothile Mlita, South Africa, Suncoast Casino and Entertainment World, Tsogo Sun Gaming, Tsogo Sun Holdings, Witbank
Blackjack Strategy

Strategy Chart
Casino Strategy
Online Strategy
Casino vs Online
Advanced Strategy
Beginner Mistakes
Bad Betting Systems