Acer Offers Four New Tablet Computers to Mobile Gamblers
Nov 24, 2010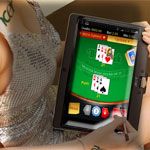 Acer tablet casino
Taipei, Taiwan-based Acer Inc. has unveiled four new tablet computers which roaming gamblers can use to enjoy mobile casinos.
Acer, one of the largest personal computer manufacturer, second only to Hewlett-Packard, is launching a new line of tablet devices which are expected to compete with Apple's iPad, RIM's PlayBook, and Samsung's Galaxy Tablet. Acer is hedge-betting, offering two sizes and two operating systems.
In April 2011, Acer Android tablets will be available as 5 inch, 7 inch and 10.1 inch devices. Using Google's Android operating system, out of the box both of these should be compatible with most Android casinos. The 5 inch device doubles as a smartphone. It is interesting to note that two devices are smaller than Apple iPad's 9.7. Apple CEO Steve Jobs asserted RIM's PlayBook would be DOA owing to just this.
In February 2011, Acer Windows tablets are currently only planned as a 10.1 inch device. Using Microsoft Windows operating system, this device should be compatible with most windows mobile casinos.
Moreover, Acer announced they will be launching their own application store "Alive". This service will provide a single point of purchase for personal computers, netbooks, tablets, and smartphones which use either Android or Windows. While Alive should be available by year's end, it isn't known whether they will permit mobile casino games to be distributed.
---
Tags: Acer Android tablets, Acer Inc., Acer Windows tablets, Android, Apple, Classes of computers, Cloud clients, Computing, Galaxy Tablet, Hewlett-Packard, inch device, inch devices, Microsoft Windows, mobile software, Netbook, operating system, operating systems, personal computer manufacturer, Personal computers, Samsung, Samsung's Galaxy Tablet, Smartphone, smartphones, Steve Jobs, tablet devices, Tablet PC, Taipei, Taiwan, Touchscreens, Windows Mobile
Blackjack Strategy

Strategy Chart
Casino Strategy
Online Strategy
Casino vs Online
Advanced Strategy
Beginner Mistakes
Bad Betting Systems