eDeck from Cantor Gaming Creates New Approach to Mobile Gambling
Nov 29, 2010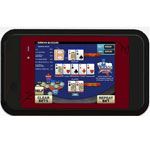 Mobile gambling eDeck
Cantor Fitzgerald LP is best known for their innovations in bond brokerage software, but more recently they rededicated their knowledge and development skills to mobile gambling.
Back in 2000, the former executive of Cantor Fitzgerald and ex-CEO of BGC Partners Lee Amaitis conceived the possibility to use Cantor's stock trading platform to develop a more refined gambling practice. By 2003, he already had the straight-forward idea of enabling sports enthusiasts to bet at mobile casinos utilizing cellular phones, but this was rejected by Nevada's gaming officials.
As an alternative, Amaitis led Cantor Gaming developed the eDeck, their own unique mobile gambling device He received a license from Nevada's Gaming Commission in November 2008 and a slots license in December 2008.
In many respects, the eDeck is similar to an Apple iPad, as this is also a touch-screen wireless device. However, its proprietary software allows gamblers to wager more like professional stock traders than typical sports punters. Skilled and attentive users can seek hedges and exploit momentary inefficiencies. The eDeck supports numerous games from Cantor Gaming, such as XtraOdds Baccarat and XtraOdds Blackjack. These applications offer dynamically-calculated side bets based upon the cards dealt enabling gamblers to press or hedge their bets.
The eDeck can also be used to bet on live sports games while they are in process, such as whether Brendon Ayanbadejo of the Baltimore Ravens will make a touchdown. The odds for such bets change according to how the game has progressed.
One unfortunate disadvantage to this dedicated device is that its mobility is very limited. Currently, the technology can only be used for M Resort's Cantor Race and Sport Books. In the near future, it should also be available at Hard Rock Hotel, the Tropicana, and the Cosmopolitan of Las Vegas. The device, which is also known as the "pocketcasino", will likewise be leased to Palazzo and The Venetian . While players can leave the lounge and gamble back in their hotel rooms, unlike iPad casinos, the device currently doesn't enable gamblers to wager from a long distance over a standard internet connection.
---
Tags: Baccarat, Baltimore Ravens, BGC Partners Lee Amaitis, Brendon Ayanbadejo, Cantor Fitzgerald, Cantor Fitzgerald LP, Casino, executive, Gambling, Hard Rock Hotel, internet connection, Las Vegas, mobile gambling device, Nevada, Nevada's Gaming Commission, touch-screen wireless device, typical sports punters, Wagering, wireless device
Blackjack Strategy

Strategy Chart
Casino Strategy
Online Strategy
Casino vs Online
Advanced Strategy
Beginner Mistakes
Bad Betting Systems