NSW Commissions New Study into Problem Mobile Gambling
Dec 7, 2010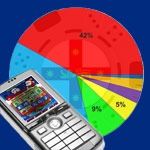 Mobile Gambling Study
Australian New South Wales Minister of Racing Kevin Greene, and New South Wales Gaming and are calling for proposals from skilled and accomplished researchers for a new study of mobile gambling.
The entire study will interview at least 10,000 people about their wagering habits in order to learn about the pervasiveness and compulsiveness of mobile phone gambling within the Australian state.
One of the key questions will be the role of mobile technology. Green asserted "[The study] will also look at the impact of technology such as online gambling and the easy access afforded by mobile phones, other hand-held devices and laptops."
A previous study in 2006, performed by ACNielsen in 2006 using the Canadian Problem Gambling Index discovered that nearly 1% of NSW's adults are gambling addicts. Another 1.6% was classified as "moderate risk".
The labour government is already afraid that more blackjack machines are coming to New South Wales, enabled by the NSW's coalition state government. Premier Kristina Keneally suggested this will lead to "an explosion of electronic roulette and blackjack gaming in NSW suburbs".
But the truth is that even without those machines, mobile phone betting has been growing throughout the nation as internet gambling operates provide easy access to mobile casinos through every new smartphone including iPhone and Android devices.
The new study will also use the Canadian Problem Gambling Index to enable a solid comparison with the 2006 study. Up to $250,000 is being made available from the Responsible Gambling Fund to sponsor this new study.
---
Tags: Android, Canadian Problem Gambling, Gambling, hand-held devices, internet gambling, iPhone, Kevin Greene, Kristina Keneally, Minister, Mobile, Mobile phone, mobile phones, mobile technology, Mobile telecommunications, New South Wales, New South Wales Gaming, NSW's coalition state government, Online gambling, Premier, Problem gambling, Responsible Gambling Fund, Smartphone, USD
Blackjack Strategy

Strategy Chart
Casino Strategy
Online Strategy
Casino vs Online
Advanced Strategy
Beginner Mistakes
Bad Betting Systems