American Wagering Expanding Mobile Gambling for Blackberry and Android
Jan 3, 2011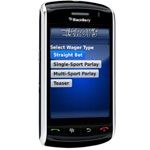 Leroy's Blackberry Gambling
American Wagering, Inc. has confirmed the Nevada Gaming Control Board's approval of Leroy's Legal Sports Betting Application for RIM Blackberry smartphones.
Talking about the Blackberry gambling application, American Wagering CEO Vic Salemo declared "American Wagering is pleased that the regulators approved our technology, finding it to be problem free. We did not have a single issue during our trial period. The LEROY'S® APP© is working great, customers love it, and it has exceeded our expectations."
American Wagering Vice President of Business Development and Public Affairs John English explained "Smartphones and other mobile devices will be key products on our development path for the coming year. The approval of the LEROY'S® APP© is the creation of a new market segment for sports wagering and I am proud to be a part of its creation here in the United States. The Nevada regulators placed significant challenges on American Wagering to provide a means of offering account wagering on a mobile device whereby we could verify that the bettor was in the state. We rose to the challenge and succeeded. Meeting new challenges and adapting to the changing needs of our customers are the reasons why American Wagering has been an industry leader for 32 years."
As Leroy's Application is a true mobile app, American Wagering is abandoning a previous plan to create a mobile product which would be limited to a brick-and-mortar's casino's physical property. It was decided this would be too limiting and therefore not economically viable. Moreover, it would be redundant to the self-service kiosks and other methods of wagering on casino floors, therefore cannibalizing the existing market instead of creating a new one.
Leroy's App permits a punter to wager from anywhere within the Nevada borders, in accord with a new gambling law which permitted mobile gambling to come to Nevada. Casinos will not need to manufacture, buy, preserve, or track propriety devices. Instead the software will receive on the player's own smartphones which will travel with the potential gambler wherever he goes.
In addition to the Blackberry gambling application, American Wagering has submitted a version of the application for Android gambling to the Nevada Gaming Control Board.
---
Tags: American Wagering Inc., Android, BlackBerry, Bookmakers, Gambling, John English, Leroy's Horse & Sports Place, mobile device, mobile devices, mobile software, Nevada, Nevada Gaming Control Board, player, Smartphone, smartphones, Sports betting, track propriety devices, United States, Vic Salemo, Vice President of Business Development and Public Affairs, Vice President of Business Development and Public Affairs John
Blackjack Strategy

Strategy Chart
Casino Strategy
Online Strategy
Casino vs Online
Advanced Strategy
Beginner Mistakes
Bad Betting Systems