Inducted in 2002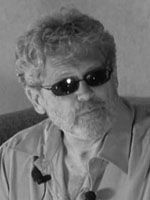 Arnold Snyder is one of the definitive blackjack experts on the planet and the self proclaimed "Bishop of the Church of Blackjack." His nine published blackjack books, numerous articles and online resource have become landmarks for both formula and strategy as well as a commitment for exposing frauds.
Because of his intense knowledge and professional accomplishments his expert testimony at Tommy Hyland's 1994 Ontario court battle with a local casino is the main reason why team play is legal in the United States and Canada today.
He is one of the most important authors on the subject of Blackjack for good reason. Beginning with the ground breaking, 'The Blackjack Formula' he was the first to accurately describe the concept of deck penetration or depth of the deal used in card counting. His books when taken together almost read like the encyclopedia of blackjack, from 'The Blackjack Shuffle Tracker's Cookbook,' also the first to describe his mathematical analysis for shuffle tracking in used in the large modern decks, as well as how to track the ever more complex shuffling methods the casinos had devised.
For enthusiasts interested in the fascinating history and personalities in the Blackjack world his, The Big Book of Blackjack is a great read. Arnold Snyder has also remained active in advocacy and current issues as an editor of Blackjack Forum an online resource for professional Blackjack players.
Arnold Snyder doesn't stop at dealing with math and tactics of blackjack. He takes interest in the players behind the game too. His "The Big Book of Blackjack" provides an amazing overview on history of the game itself as well as giving insights on the landmark figures that made blackjack so popular and influenced the game considerably.
He gives not only technical details and facts but also has a great sense of humor, thanks to which it is so interesting and exciting to read Snyder's writings.
Arnold Snyder was never in favor of various computer devices that help gamblers win, but he became a sponsor of PowerSim – the software that simulates card counting. According to him this program is helpful in learning tools, rules, good bets and strategies of blackjack.
Arnold Snyder's books
The Big Book of Blackjack
You can find anything here from history of blackjack and the game's rules to winning strategies.
The Blackjack Formula
The first book of Arnold Snyder, written in 1980 and published in 1982, where he described how not to think about a card deck at card counting.
How to Beat Internet Casinos and Poker Rooms
A guide on how to play and win money online, how to choose safe sites to play, describing every step of the process, from choosing sites, opening an account, and how to take your winnings!
The Over/Under Report
This book describes over/under card counting system and gives exact steps to follow. Book is easily written, even people with no mathematical education can easily understand it.
The Blackjack Shuffle-Trackers Cookbook: How Players Win (And Why They Lose) With Shuffle Tracking
The book is clearly about shuffle tracking: you'll find out how to analyze and compare chances of this or that shuffle.
Blackjack Wisdom
Although the book doesn't contain any exact tips and strategies, it's an entertaining read. Snyder is speaking about various blackjack topics.
Blackbelt in Blackjack: Playing 21 as a Martial Art
21 powerful chapters include a complete course on beating blackjack: the devastating red 7 count, the hi-lo count, the zen count, the true count, and so much more.
The Poker Tournament Formula
This is the first book to provide winning strategies for the small buy-in ($100 or less) no-limit hold'em tournaments. Snyder uses his own experience with these methods and gives readers specific strategies for winning.
The Poker Tournament Formula II: Advanced Strategies
Snyder's revolutionary work debunks commonly (and falsely) held beliefs. Snyder reveals the power of chip utility and covers utility ranks, tournament structures, small- and long-ball strategies, patience factors, the impact of structures, tournament phases, and much more.