Inducted in 2002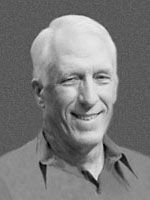 A pseudonym for John Ferguson, Stanford Wong started his gambling career while pursuing a PhD in finance from Stanford university in 1970. He burst onto the Blackjack scene with his 1975 classic, 'Professional Blackjack,' which popularized a technique known as 'Wong-ing.'
It was the first instance of players keeping count of a game and only placing a bet after the count had become positive and then stepping out again. It proved so popular that casinos now usually bar this style of play. He also devised a cleaver method for handling the large 4 deck shoe games that has lead many professionals to refer to card counting as 'pre-Wong' or 'post-Wong.'
He then traveled extensively through Asia encountering many different kinds of Blackjack games and in his out of print, 'Blackjack in Asia,' he describes his many and highly creative strategies for beating all of them. Beyond a simple guide it also describes his adventures in illegal currency exchange and customs protocols.
In 1980 He published another breakthrough called, 'Winning Without Counting,' a collectors item that describes both legal and illegal card methods with a voracious sense of humor.
His computer program, Blackjack Analyzer was originally created for personal use but later became one of the first commercially available odds analyzing tools on the market.
He has authored over 15 books, all on Blackjack and has contributed enormously to many other important blackjack books, publications and websites. He currently maintains his own Blackjack website that describes the rules and conditions of Blackjack tables in casinos around the world.