Samsung Gets Ace on the River as German Court Allows Galaxy Tab in EU
Aug 18, 2011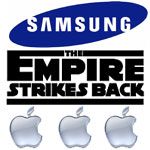 Samsung vs Apple
German court allowed Samsung to sell its Galaxy Tab 10.1 in the rest of Europe, after lifting the preliminary injunction.
Fans of mobile casinos could have already read about these events in our (Apple Prevents Samsung from Selling Galaxy Tab 10.1 in Europe) article. Now we bring fresh updates on the current situation. The German court has now lifted the preliminary injunction, which prevented Samsung from selling its new tabs in Europe.
As the situation currently stands, the Korean company is free to deliver its latest product to eager Android casinos fans anywhere throughout Europe except Germany. The next court hearings are scheduled for mid-September in the Netherlands and August 25 in Germany, where the fate of Samsung Galaxy Tab 10.1 is to be finally decided.
The reasons behind German court deciding to allow Galaxy Tab 10.1 in the rest of Europe are quite simple. Someone has realized that the German court didn't have any authority to place a EU-wide ban on the Korean company, which is not registered in Germany. German office of Samsung is still prohibited to sell the Galaxy tab to mobile casino games fans, however the Samsung parent company isn't.
Now there's another question on the way, will Samsung make Apple pay for the lost business during the period, when preliminary injunction was still valid? Taking into consideration that Samsung has already lost Australian market because of Apple, making Steve Jobs and his boys pay seems like a smart strategy.
---
Tags: Android, Apple, Europe, European Union, German court, Germany, M&A, Portable media players, Samsung, Samsung Group, Samsung I7500, smartphones, Steve Jobs, Tab, The Netherlands
Blackjack Strategy

Strategy Chart
Casino Strategy
Online Strategy
Casino vs Online
Advanced Strategy
Beginner Mistakes
Bad Betting Systems