4 Reasons Playing Blackjack Online is a Foolproof Way to Learn Blackjack Strategy
The internet is full of blackjack tips and tricks as well as free online blackjack games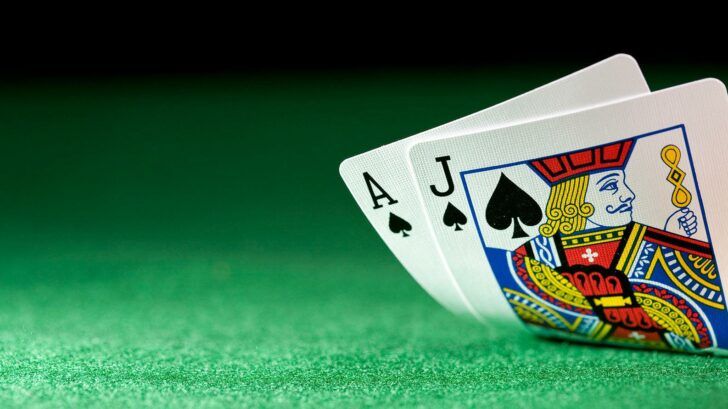 Online Blackjack
Blackjack is difficult to learn, but the internet puts unlimited resources at your disposal. Here's why learning online is easier than in a land-based casino.
Mastering the art of blackjack is a tough undertaking. From learning when to hit to figuring out advanced techniques like card counting and shuffle tracking, the mysterious table game is full of complexity.
For an aspiring player new to the game its important to come up with a step-by-step plan. Most experts advise spending about 20 hours at home learning basic strategy and about 40 more hours learning card counting systems.
That's a lot of work, but today people have things much easier than the card slingers of decades past. Two words: the internet. The world wide web is full of resources and both free and real-money blackjack games. Here is a step-by-step plan for learning to play online.
Read online content
Back in the day an aspiring blackjack player had only books and magazines to guide their play. With resources difficult to come by, one had to learn mostly through trial-and-error. There's nothing wrong with that, but people today have it a lot better.
There are countless peer-to-peer forums and instructional sites available to up-and-coming players. One can access a world of knowledge simply by logging on. Our site has several great pages devoted to blackjack tips and tricks. There are also many other good options available.
There are also tons of strategy charts available online telling you what to do in any conceivable situation. Practicing at home using these resources is a great way to learn basic strategy.
Play free online blackjack
Once you've made progress learning basic strategy, you can move on to playing real games. Not-for-money games, of course. Its crucial that you get the game down pat before you start risking your hard-earned cash.
Luckily there are tons of free online blackjack games and mobile apps. Every reputable online casino has them. These are fun and provide great opportunities to improve your game. And as technology continually upgrades, the games keep getting better and better.
One should spend at least a couple weeks playing only free blackjack games in order to get the strategy down perfectly. You can also use a strategy card while you play. You should have the entire card memorized before you start playing for money.
Play real-money online blackjack
Once you feel confident enough, its time to start moving on to the real thing. Playing real-money blackjack online rather than in the casino has definite advantages. While it doesn't have the ambiance of Las Vegas, in most practical aspects it's superior to the land-based version.
For starters, online and mobile casinos hosting blackjack games always offer great bonuses. Some sites we recommend are Bet365, Bodog and All Slots.
Once the player has fulfilled the wagering requirement spelled out in the terms and conditions, they are free to cash out. While you will need to put up some of your own cash before you can meet the requirement, the bonus means that your losses will be minimized.
The internet also has a lot of interesting variations on blackjack which you can't find in most land-based casinos. One popular game is Blackjack Switch, which allows you to move cards between two separate hands to create the best combinations. Another great one is Perfect Pairs, which pays out extra bonuses if the player's two upcards form a pair.
Play live dealer online blackjack
If you enjoy playing from home but don't think that online games are authentic enough for you, the industry has come up with an innovation that combines the best of both worlds. Live dealer is just like casino blackjack, but you watch the table via live stream and place bets electronically.
These games have grown in popularity for good reason. They can be conveniently played from home and are almost as authentic as what you'll find in a land-based casino. It is also possible to count cards while playing live dealer.
Conclusion
Don't get me wrong. I love playing live blackjack in land-based casinos. But the truth is, online has a lot of advantages that traditional establishments can't match. From a purely financial perspective, it makes more sense to play online.
The internet is also the best training tool ever to hit the world of blackjack. Sure, you need to spend some time sifting through useless stuff to find what is relevant for you. But its all there for free. And the free-to-play blackjack games are a great way to learn basic strategy before progressing on to higher stakes play.