Vegas Casinos Put Squeeze On Casual Blackjack Players
The recent rule changes in Blackjack payouts at two of the largest casinos on the Strip in Las Vegas may herald a new status quo or a complete collapse.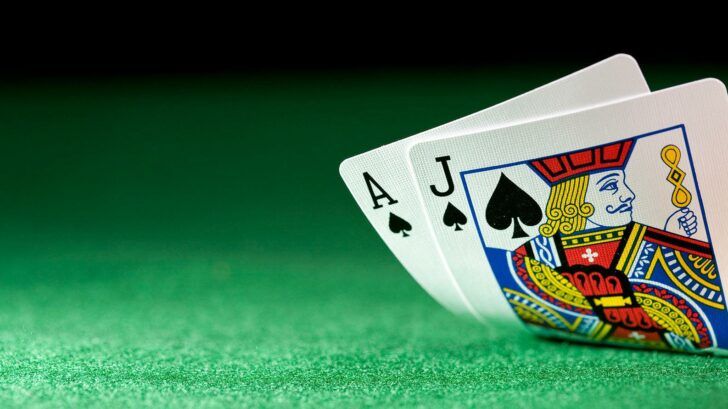 Some casinos in Vegas are lowering their payout on Blackjack hands from 3/2 to 6/5 so we look at why and what it might mean for the strip.
The physical casino industry has been undergoing a shift in global emphasis for a while now. The rise of Macau in the east coupled with the seemingly endless and unstoppable online gambling sector has left some of the mainstays of yesteryear's gambling landscape shaken and distinctly stirred. The ubiquity of internet capable devices now means people need not travel to gamble whatever their local laws might be, and that lack of travel is beginning have an effect.
The most obvious example of this is the situation in Atlantic City where four major casinos have announced they're either closing or seeking buyers (which is code for closing soon). The shrinkage in market requirement for specific locales of gambling specialization and centralization means that the once great meccas for gamblers now no longer hold the allure they once did. Other states have liberalized gambling laws as one of the many smart strategies they're trying to increase income.
Casinos Put The Squeeze On Casual Card Players
• Punters on the strip unaware of blackjack rule variations
• Number of visitors gambling in Vegas down
• Time people spend gambling down too
More casinos in more places fighting over what is, pretty much, a market segment of static size means that individual casinos and indeed whole areas dominated by them, are facing a decline in trade that can make for nervous investors and antsy owners. Some of the casinos in Atlantic City that are shutting their doors weren't unprofitable, they just weren't profitable enough to warrant the behind the scenes investment companies keeping money in them over the long term.
Unfortunately there is another side to this squeeze that is beginning to be noticed and it isn't so honestly greedy as the investors pulling out of Atlantic City. Over on the strip in Las Vegas, where the number of visitors gambling during their stay has fallen from 86% in 2006 to 71% in 2013, the owner of two of biggest casinos have subtly changed their blackjack rules in a move widely seen as a direct effort by the casinos to increase the house edge.
Blackjack Payouts Down To 6/5
The change may seem at first glance a very slight one, hands that come up blackjack will now be paid out not at 3/2 but at 6/5, and given a casino is a place of business able to do as it wishes with the games it offers, quite within the law, but there are more than a few dissenting voices raising objections to this quite blatant attempt to chase profits. The Venetian and Palazzo Casinos rule change, it is feared, may well eventually spread to other interests along the strip.
This has a two fold impact in that it both effects casual players more than long term professionals and it sends out a rather strange message at a time when Las Vegas is still attempting to claw back trade lost since the fiscal crisis of the last decade. Henry Tamburin, gambling instructor and author, likens it to a stealth tax saying that given a player can expect to hit blackjack once every 21 hands and reasonably expect to play 80 hands an hour, the casinos are scooping an extra percentage.
"It's like a hidden tax that you're being charged by the casinos," Tamburin says, "Most people don't realize that." going on to add that the extra percentage applied over every hour to every player adds up to a fair raise in the profitability of a blackjack table. The owners of the casinos are thus apparently willing to wager that players will either not notice or not care enough to take their custom elsewhere on the strip, or indeed be betting other casinos will follow their lead.
"On the strip you get a lot of amateurs and out-of-town people who want more of the excitement with the lights and the noises of Vegas and are less concerned about the specifics of the game," says Dr. William Thompson, a public administration professor at the University of Nevada. "I think the casinos figure that these are turkeys that we can pluck a little better." an attitude which may well explain why fewer people visiting Vegas are hitting the tables.
They Are Going To Start Losing Money
"Up until about a year ago, most of the six-to-five games were low-limit and single deck games," Tamburin insists, "Now these casino bosses have boldly implemented six-to-five on two-deck and six-deck games and they're even doing it on higher minimum tables." Now whilst it has long been accepted that the single deck games were already giving players quite a fair shake and so could be excused their six-to-five payout, this expansion into other, higher costing, less predictable games, has the whiff of fleecing about it.
Thompson reflects that this is probably a reaction to the slump in the numbers of people gambling in the first place. "Gaming is becoming less and less of an attraction." he states flatly, and points out that instead casinos are seeing a greater percentage of their revenue streams coming from other entertainment market segments such as restaurants and night clubs. The average time that gamblers now spend at tables and slot machines is down from 3.3 hours in 2006 to 2.9 hours per day in 2013.
And it is likely to become even less attractive if this trend towards 6/5 blackjack payouts continues, despite their efforts to disguise the increase in house edge by creating tables with scantily clad dealers, pole dancers and hugely loud music. "The casino bosses are making the game of blackjack unbeatable," Tamburin laments. "Soon the public is going to realize it. They're going to start losing their money a lost faster, especially the tourists out on the strip."
Which will, economics being what it is, lessen even further the number of people both willing to visit Las Vegas and gamble once they get their. There are a whole host of losing blackjack strategies, the most obvious being playing in a casino that has deliberately rigged the game to give itself an advantage of which the customer is unaware. Vegas had been showing signs of recovery, it remains to be seen if that recovery will have any substance to it if the casinos sharpen their teeth and become even more mercenary than they already are.