3 Biggest Blackjack Hot Streaks Without Card Counting Systems
Using a card counting system is the best way to win at blackjack but some players have won big using only a blackjack strategy card.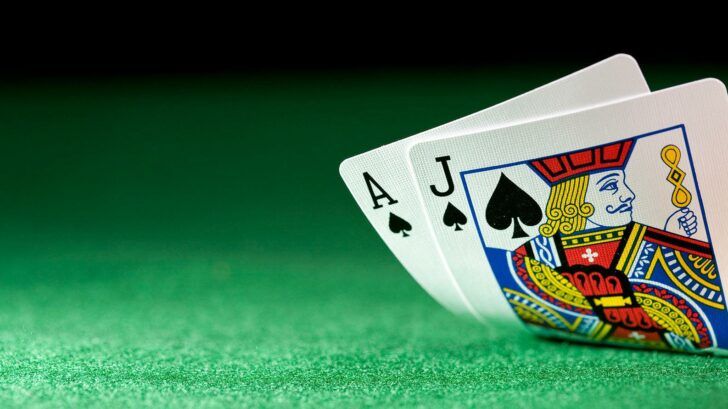 Using a card counting system is the best way to win consistently, but some legendary blackjack players have found success the old-fashioned way.
If you're like most visitors to our site you've come to us looking for information on card counting systems. And we would advise you (as we advise everyone) to use our card counting resources to get the hi-lo system down pat so that you can start winning consistently at the casino. It will take countless hours of time and effort, but it's the only way to tip the edge in your favor and make enough money to play professionally.
But while the virtues of counting can't be repeated often enough, there are some quirky cases of blackjack players hitting it big simply following the advice you get from a standard blackjack strategy card. Remember, the game of blackjack has been around for centuries, and modern card counting techniques have only been in use since the late 1960s. Check out these legendary players who won big doing things the simple way:
#1: The Man Who Broke Atlantic City: Don Johnson
Nothing but bad news for casinos has come out of Atlantic City in recent years, and back in 2011 Mr. Don Johnson of Philadelphia came to town and didn't leave until he had wiped out the Tropicana's entire monthly profits and cost the company CEO his job.
Over the course of two weekends in Atlantic City this businessman and amateur blackjack player won an astounding $15 million by using nothing more than basic strategy. The secret? Don Johnson made flawless decisions and got more than a little bit lucky. Tropicana CEO Tony Rodio (whose predecessor was fired after Johnson won $6 million in a single night) summed it up better than I ever could: "he plays perfect cards."
#2: The Billionaire Maverick: Kerry Packer
The now-deceased Australian media mogul was one of the world's richest men and one of the most legendary casino "whales" of all time. The man had an endless bankroll and was not afraid to put it on the table at any time.
Don't be mistaken, Packer lost millions of dollars at blackjack tables in Las Vegas and London. But he won millions of dollars as well. Casino execs held on for dear life every time he walked onto the casino floor, as his wager could make or break the casino's month. And he never counted cards, sticking to old-fashioned blackjack strategy.
On a fateful night in Las Vegas in 1995 Packer entered the MGM Grand and promptly began laying down $250,000 wagers on single hands. A mere 40 minutes later he had $20 million in house money in his pocket and each of the dealers had a $2,500 tip. That's the definition of a high-roller.
#3: The Amateur Gambler: Michael Geismar
Hedge fund manager Michael Geismer always fancied the game of blackjack (even reading some of the best blackjack card counting books) but never took it seriously enough to count cards at a casino. In fact he only played blackjack a few times a year on trips to Las Vegas. One such trip was for a business convention in 2012, which just so happened to be his big break at the blackjack table.
Geismar flew in on Tuesday and by Thursday morning people at the convention were buzzing about the mystery man who won $300,000 the night before. Later that night he gave them even more to buzz about, winning $410,000 by the early morning hours.
The craziest thing about this story is that Geismar started each laying down $100 dollar hands. Getting increasingly hot he kept increasing his bets, and before he knew it was putting down $10,000 each time. Lots of guys would have taken the incredible experience as a sign that blackjack was their true calling. Not Geismar. Making millions of dollars annually in the finance game, he still plays blackjack only a few times a year.
What to make of it all?
The above cases prove that it's possible to strike it rich combining airtight basic strategy with a dash of luck. But in the long-run you'll never win consistently without counting because the house edge will always be between .25 and 1.25 percent.
Johnson has never repeated his big run in Atlantic City (partly due to the fact that he's banned from every casino in town), Packer lost a lot more than he won over the course of his gambling career, and Geismar had an impressive showing in Las Vegas but has never considered gambling professionally.
Cases such as these are more for entertainment than anything else. If you'd like a deeper analysis on the old debate on whether it's possible to win without counting cards, take a look at this article from last month. There's nothing wrong with trying your hand at the casino armed only with a basic blackjack strategy card. At the very least, losing money that way will teach you the true value of card counting!