Bovada
Casino
Betadonis
Casino
InetBet
Casino
VideoSlots
Casino
Spin
Palace
Raging
Bull
32Red
Casino
High Noon
Casino
RoyalVegas
Casino
Blackjack Card Counter Larry Evans Passes Away at 78
Dec 6, 2010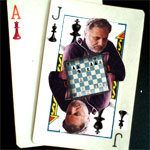 Blackjack Grandmaster
Larry Evans, renowned grandmaster of both blackjack and chess games, died in a Nevada hospital.
Larry Evans was a rare individual who mastered both blackjack strategy and chess strategy. As uncommon as this combination of gaming skills may seem, the two aren't entirely unrelated.
Even at the height of Evan's career as a Chess Grandmaster and prolific author, Evans would joke about how little money was to be had even for the very most excellent chess players. Thus, in 1968, before card counting became fashionable, Larry Evans used his refined memory to make a few extra dollars at Reno casinos.
More-so than with chess openings, the correct "moves" in blackjack can be memorized as only a limited number of hands are possible before the player exceeds 21, going bust. Moreover, by keeping track of how many "ten cards" remain in the deck, a player can realize when to raise his bets.
Few obstacles held Evans back as a chess player and he won or shared both the U.S. Open Chess Championship and the U.S. Chess Championship nearly half a dozen times each, ultimately becoming International Grandmaster and the U.S. State Department's "chess ambassador".
Unfortunately, Evans was not allowed to enjoy similar success playing blackjack card games. Blackjack, being perhaps the only game where players can't maintain a career once they have achieved fame, Evans was banned from all the large casinos in Las Vegas and elsewhere.
On 15 November 2010 at a hospital in Reno, Nevada, Larry Evans died from complications related to his gallbladder surgery.
---
Tags: Arnold Snyder, Blackjack, Card counting, Chess Championship, Computer chess, Department of State, gallbladder surgery, Larry Evans, Las Vegas, Nevada, Nevada hospital, player, prolific author, Reno, Stanford Wong, the U.S. Chess Championship, the U.S. Open, Year of birth missing
Blackjack Strategy

Strategy Chart
Casino Strategy
Online Strategy
Casino vs Online
Advanced Strategy
Beginner Mistakes
Bad Betting Systems