The 7 Most Common Types of Blackjack Players
Who will you find sitting at your blackjack table? Play Blackjack Player Roulette!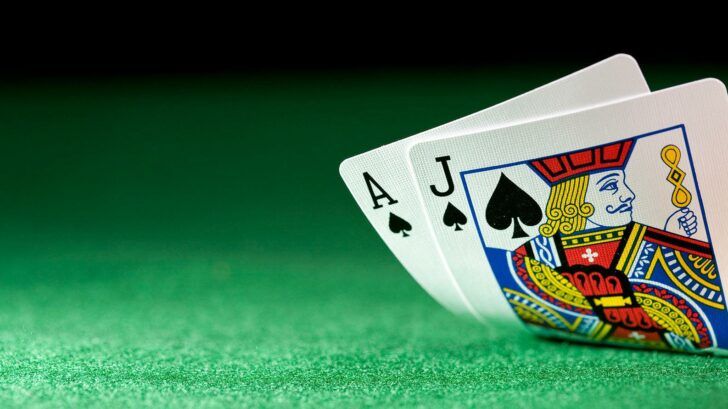 We've all been there: sitting at the blackjack table and noticing that everyone else seems to play to pre-defined roles. Yet what are those roles, and does anyone actually play outside of these "rules of play"?
The whole idea came to me when sitting at the table waiting for the player to my right to lose his chips and stand up. The same thing has surely happened to you, too. He was sitting there hogging 3 boxes and losing more and more every hand.
I thought: "Surely he can't be playing this role, really? There must be some ace up his sleeve somewhere?" Alas – for him at least – there was no ace, no luck and definitely no card counting systems going on. So when he got up, I got the chance to play. He perfectly illustrated one of those types of player, though…
The US Tourist
Yes, yes, I know. It's not fair to tarnish all Americans with the same brush, but there is something there. If a Brit was playing three boxes and you asked him for one, he would probably let you have it: he's polite and courteous, after all. The American, on the other hand, sees his chances of having fun diminished if you take his box.
Of course, there is one other type of gambler: the problem gambler. If you do find yourself in trouble, there are a number of people who can help you
• GamCare is a UK charity who offer an online and offline support network
• The Salvation Army also offer help for gambling addicts
• Gamblers Anonymous are another option for those seeking help
• GambleAware offers advice to anyone looking for direction
It's not just that, however: the tourist part is just as important. This is the person who not only plays 3 boxes, but checks the blackjack strategy card on each and every hard, even going so far as to ask the dealer if he should stand or hit.
Casinos love these players. They tend to drop a decent amount of cash into the game and walk away empty handed. In this case, it was close to $500. It's not just the cash, though: he dropped that $500 in about half an hour's play.
The Smart Ass
There can be some cross over here, as the smart ass always knows his basic strategy. He will always make sure everyone else knows that he knows it, too. Not only will he never hit a 17, but if someone has the temerity to split a pair of 10s, he will be offended.
"You can't split 10s! You're really going to? You're killing me, man!"
These blustering strategists almost always end up with nothing. They will, of course, make some wins, but will inevitably end up down by the prescribed amount. There's no creativity in their play, no danger. It's like playing a robot: you know exactly what they're going to do next, and they'll make damn well sure you do, too.
The Quiet Beginner
Often spending some time watching the game before really getting involved, this beginner will make small bets without touching the side bets. Occasionally they will take their time before choosing what to do and will often look at the strategy card.
Unlike the American tourist, they will never brag, never ask someone else's opinion, and if they get on the wrong side of the boisterous smart ass, they will likely apologize.
While they don't make any money, the casino doesn't like these guys either. They usually come in with $100 or less, and walk away having lost $20-$30 after 2-3 hours play. Sure, the casino has made profit, but hardly enough to pay the dealer, never mind the cost of running the place!
The Drunk
While it may technically be illegal for casinos to allow drunk gamblers to play, in practice they can't get enough of them. Draping themselves over the chair, these loud individuals usually drop a whole heap of cash on rather losing blackjack strategies.
In fact, they often make mistakes, they love the high odds side bets and they just cannot resist making a scene at the end of the day. You'll know all about them when they sit down at your table, that's for sure.
The Guy Who's Just Watched 21
You must have seen this guy. Usually he will actively proclaim he is counting cards. Yeah, if he tells you he's doing it, he most definitely isn't.
Usually, they'll be inebriated and will talk loudly about their "skills". Luckily for them – and unluckily for you – they usually end up with a run of luck at the beginning. This then leads to them proclaiming their card counting genius even more… despite the fact they're not actually counting anything.
Casinos love them, of course: they're pure theatre. The pit bosses smile indulgently and often stifle laughs when their attempts at basic strategy fall flat. Other players, meanwhile, may find their casino table manners lacking somewhat, something I would agree with.
The Beginner Card Counter
Then comes your guy just coming to terms with a new found skill. Generally he's just spent a few hours at home dealing to himself over and over in an attempt to perfect his card counting techniques.
He'll be very careful, very watchful and won't try anything grand or adventurous. He's also likely to cause some heat on your table, but will lose just enough to stop an intervention. The likelihood is he'll leave with a decent amount more than he came in with, but not enough to cause the casino to baulk.
He will be courteous and pleasant, if a bit boring, company on the table, but he will get better and become…
The Professional
These guys will have been counting for a while now. Not only are they able to count precisely, but they probably also keep a side bet going and have a flutter on the 21+3 bet every now and again, too.
They'll also have the time to keep up an image, so may well talk with you, exclaim at luck and generally seem to have a good time. They don't want to attract the pit boss after all.
They will win at your expense, though, so if you do manage to pick one out – and perhaps you should be getting the pit boss' job if you do – it may be worth switching tables. If you just want a few hours fun, though, they're worth it.
So there we go: the 7 types of blackjack player out there. Keep an eye out next time your at the blackjack table, and perhaps you could play "guess the player roulette" while you're at it!