Ryan Reynolds Played Blackjack with Jimmy Fallon
Ryan Reynolds played blackjack with Jimmy Fallon on the promo-tour of his new road-movie 'Mississippi Grind'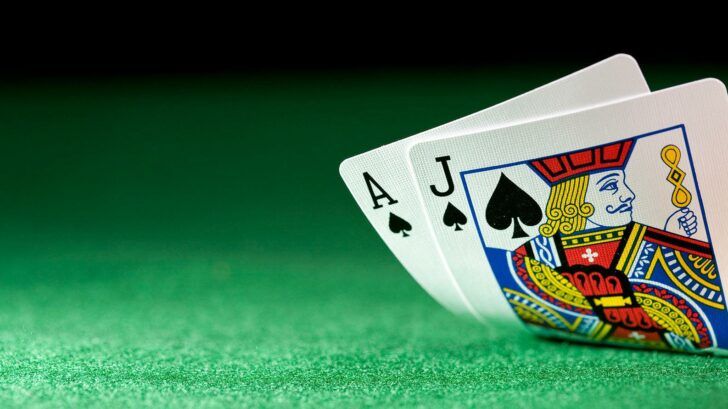 Ryan Reynolds played blackjack aka Slapjack at the 'Tonight Show Starring Jimmy Fallon' to promote his new gambling-themed movie.
• Ryan Reynolds' new gambling road-movie
• Jimmy Fallon invents a new blackjack type
• 'Missisipi Grind' released on September 25 (USA)
During the promo-tour for his new movie 'Missisipi Grind', Ryan Reynolds stopped by the 'Tonight Show Starring Jimmy Fallon'. The host is famous for inviting celebrities to his show and convincing them to play some kind of game with a twist, to deliver some extremely comical moments. Reynolds wasn't an exception, as Fallon asked him to engage in a round of 'Slapjack' with him.
Jimmy Fallon's Blackjack aka. Slapjack
The game 'Slapjack' was inspired by Reynolds' new comedy-drama, in which he stars as a slick and charismatic poker player. The rules are simple, as Fallon explained "it works the same as blackjack, but at the end of each round the winner gets to slap the loser across the face with giant prosthetic hand." At the end, Jimmy Fallon came up as the winner, but Reynolds displayed a decent knowledge of blackjack rules and lingo.

Jimmy Fallon and Ryan Reynolds played blackjack with a twist (NBC)


In the movie 'Mississippi Grind', Curtis (Ryan Reynolds) and Gerry (Ben Mendelsohn) decide to gamble their way into a high-roller poker game in New Orleans. "Reynolds has never been better than he is here, delivering a performance that perfectly balances outgoing charm with evident loneliness," described Reynolds' performance the official site of the Toronto International Film Festival.
Ryan Reynolds played blackjack as promotion
"Mississippi Grind has exceptional lead performances, complexity and humor; this drama is one of this year's must-see movies," said Hanny Patel, senior director for digital and emerging markets at DirecTV, that offered a pre-release access to the movie. Previously in an interview, Reynolds shared that he sees poker as a form of art and as "one of the great undiscovered drugs."